ARYZ bei STADT.WAND.KUNST 2022
ARYZ – Live Wandgestaltung ab 22. Mai 2022:
A4, 1 (Innenstadt), 68159 Mannheim
Sechs lange Monate haben wir auf die neue Stadt.Wand.Kunst-Saison gewartet und können euch nun endlich unseren ersten Gast in diesem Jahr ankündigen: ARYZ. Der junge Künstler aus Spanien begeistert seit Jahren die weltweite Kunst- und Streetart-Szene – und das völlig zurecht! Seine Murals, die etwa in Japan, Frankreich, Finnland, Polen, China und Madagaskar zu finden sind, fügen sich stets in ihre Umgebung ein – und ziehen dennoch alle Blicke auf sich. In seinen Werken sind oft Menschen oder Tiere zu sehen, statisch oder in Bewegung. Unverkennbar ist dabei stets seine Farbkomposition aus Pastelltönen und gedeckten Farben. "I like harmony in the use of colour and I don't want to force the spectator to notice my work. […] I like my intervention to integrate naturally in that space."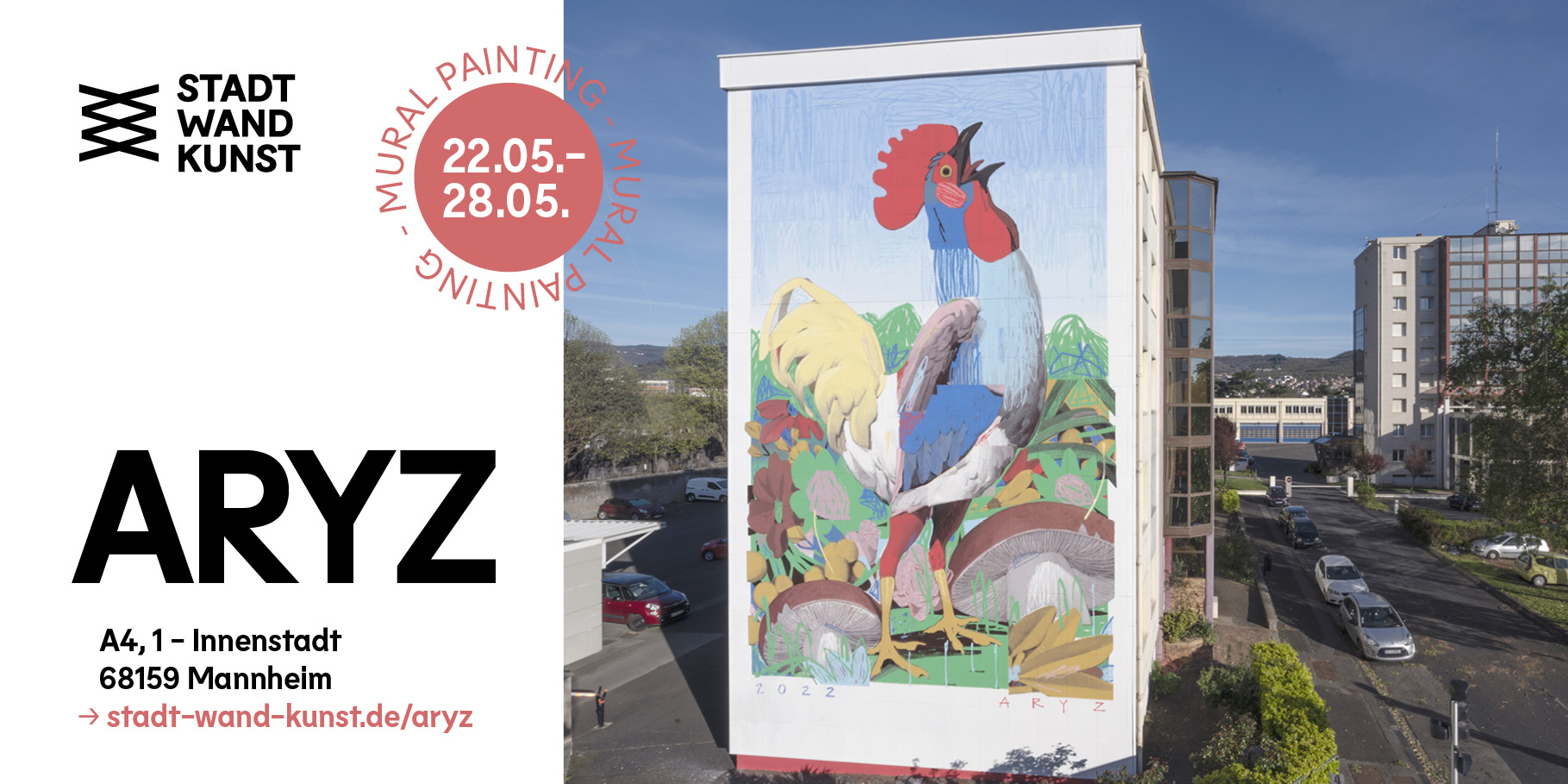 Die künstlerischen Anfänge von Octavi Arrizabalaga liegen in der Graffiti-Szene in und um Barcelona, in der er sich in den frühen 2000er Jahren unter dem Pseudonym ARYZ einen Namen machte. Zusammen mit seinen Freunden begann er einige Jahre später mit selbstgebauten Teleskopstöcken und alter Hausfarbe an den Fassaden verlassener Fabrikgebäude zu malen. Mit begrenzten Mitteln zu arbeiten, eher gedeckte Farben zu mischen und immer wieder zu improvisieren, hat seine Kunst bis heute geprägt.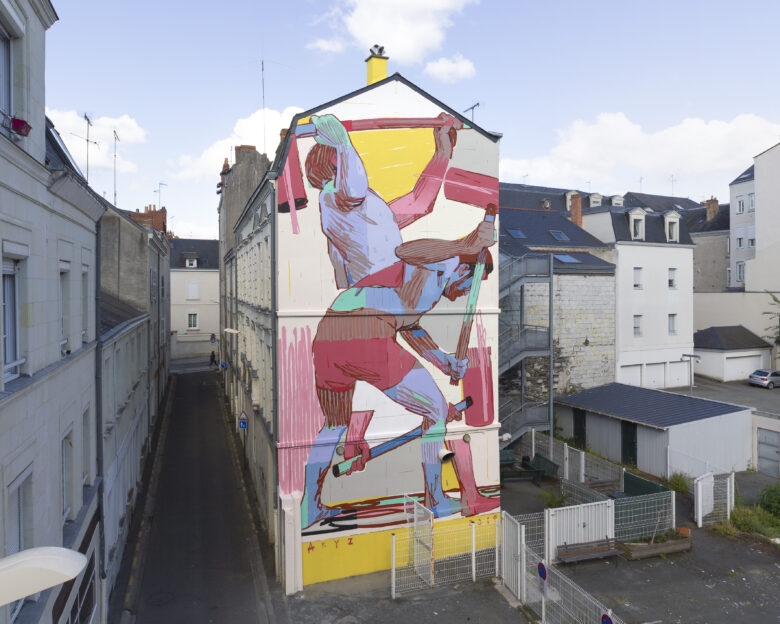 An Murals interessiert ihn vor allem die Interaktion mit den bereits gegebenen Elementen, die Beschaffenheit der Fassade, die Straße und Umgebung. Der kreative Prozess besteht für ihn in dem konstanten Dialog zwischen Künstler und Medium, Oberfläche und Kontext. Doch auf der Straße zu malen bedeutet für ihn auch: den gesamten Prozess von der ersten Minute an den Betrachter*innen auszusetzen. In seinem Studio hingegen kann er ohne Druck arbeiten, Versuchen und Fehlern freien Lauf lassen. Da er in der letzten Zeit die Anzahl der Wandinterventionen pro Jahr begrenzt hat, wird sein Mural in Mannheim wohlmöglich zu den wenigen Werken gehört, die ARYZ in diesem Jahr im öffentlichen Raum gestalten wird.
"I believe my best work will always be the next piece: dissatisfaction has no limit."

ARYZ
Hier wird das Mural von ARYZ entstehen
Das Mural von ARYZ entsteht in Zusammenarbeit mit dem Referat Kunst, Kultur, Kirche der Erzdiözese Freiburg, der Katholischen Hochschulgemeinde und der Katholischen Kirche in Mannheim.