Isa Toman alias FRAU ISA für Stadt.Wand.Kunst
FRAU ISA zu Gast bei STADT.WAND.KUNST 2018
Das vierte großformatige Mural im Rahmen von STADT.WAND.KUNST 2018 wird von der großartigen österreichischen Künstlerin Isa Toman, besser bekannt als FRAU ISA, gestaltet. Nachdem in diesem Sommer schon 1010 aus Hamburg, WAONE und THE LONDON POLICE aus Amsterdam zur Sprühdose griffen, erhält nun poetische Weiblichkeit einen prominenten Platz im Mannheimer Stadtbild.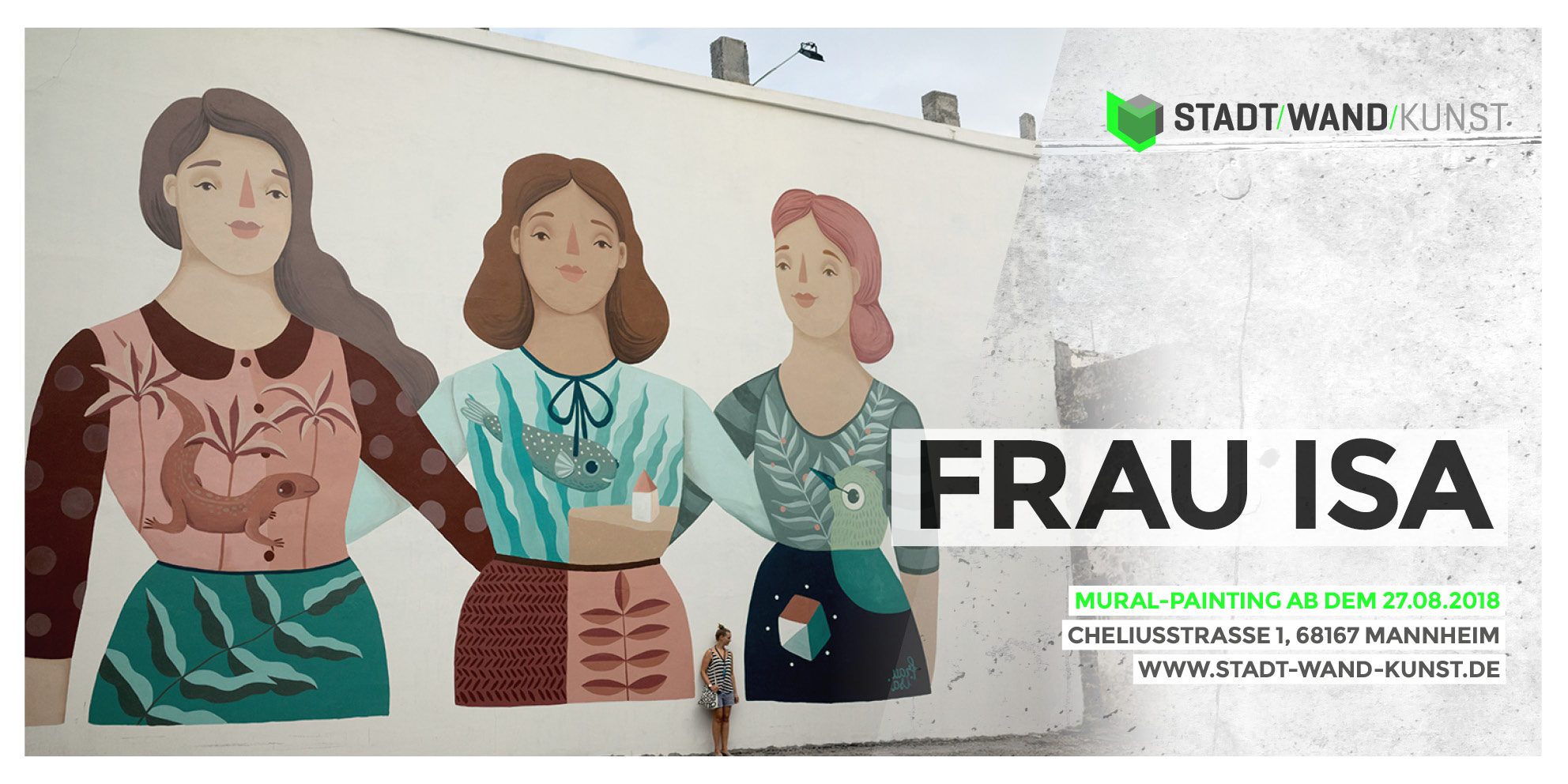 FRAU ISA erschafft illustrative Arbeiten auf Leinwand, Papier, am Computer und  – unter anderem durch ihre Wurzeln im Graffiti – insbesondere auch in Form von großformatigen Wandbildern auf Hausfassaden. Meist stehen dabei weibliche Protagonistinnen im Vordergrund ihrer Werke, die sie mit symbolhaften Motiven und verwirrenden Details zu mystischen Gesamtbildern arrangiert. Die von FRAU ISA erschaffenen Bildwelten sprechen eine klare Sprache in harmonischen Farben und flächigen Harmonien, deren geheimnisvolle Tiefe sich in jedem ihrer Werke entdecken lässt. Ihre Murals fügen sich in ihre Umgebung und erzählen der Betrachterin bzw. dem Betrachter fantastische Geschichten, die FRAU ISA bereits zu zahlreichen Mural-Art-Events, sowie auf Einzel- und Gruppenausstellungen weltweit führten.
[su_gmap width="960″ address="Cheliusstraße 1, 68167 Mannheim"]
Mit FRAU ISA erhält Wiener Melancholie Einzug zu STADT.WAND.KUNST 2018. Die Künstlerin startet ihre Arbeit am 27.08.2018 in der Cheliusstraße 1, 68167 Mannheim und wird den kunstinteressierten Bürgerinnen und Bürgern der Stadt Mannheim ein Mural hinterlassen, das den Arbeiten der prominenten Mitgliedern ihrer THE WEIRD Crew in nichts nachsteht. Hebebühne frei für FRAU ISA! Bilder vom Entstehungsprozeß gibt's auf Instagram und der Facebook Seite Stadt.Wand.Kunst!