SATR bei STADT.WAND.KUNST 2022
SATR – Live Wandgestaltung ab 29. Juni 2022:
Alsenweg 64, 68305 Mannheim
Eine der faszinierendsten jungen Graffiti-Künstlerinnen der Welt wird ab dem 29. Juni ihr neues Wandbild für STADT.WAND.KUNST in Mannheim, Waldhof gestalten. SATR, Street-Art-Star aus Guangzhou, China, ist vor allem für ihre Tierdarstellungen bekannt, die meist in den für sie typischen Farben Weiß, Schwarz, Grau und Rot gehalten sind. Dank ihres einheitlichen und außergewöhnlichen Stils sind ihre Wandbilder weltweit erkennbar.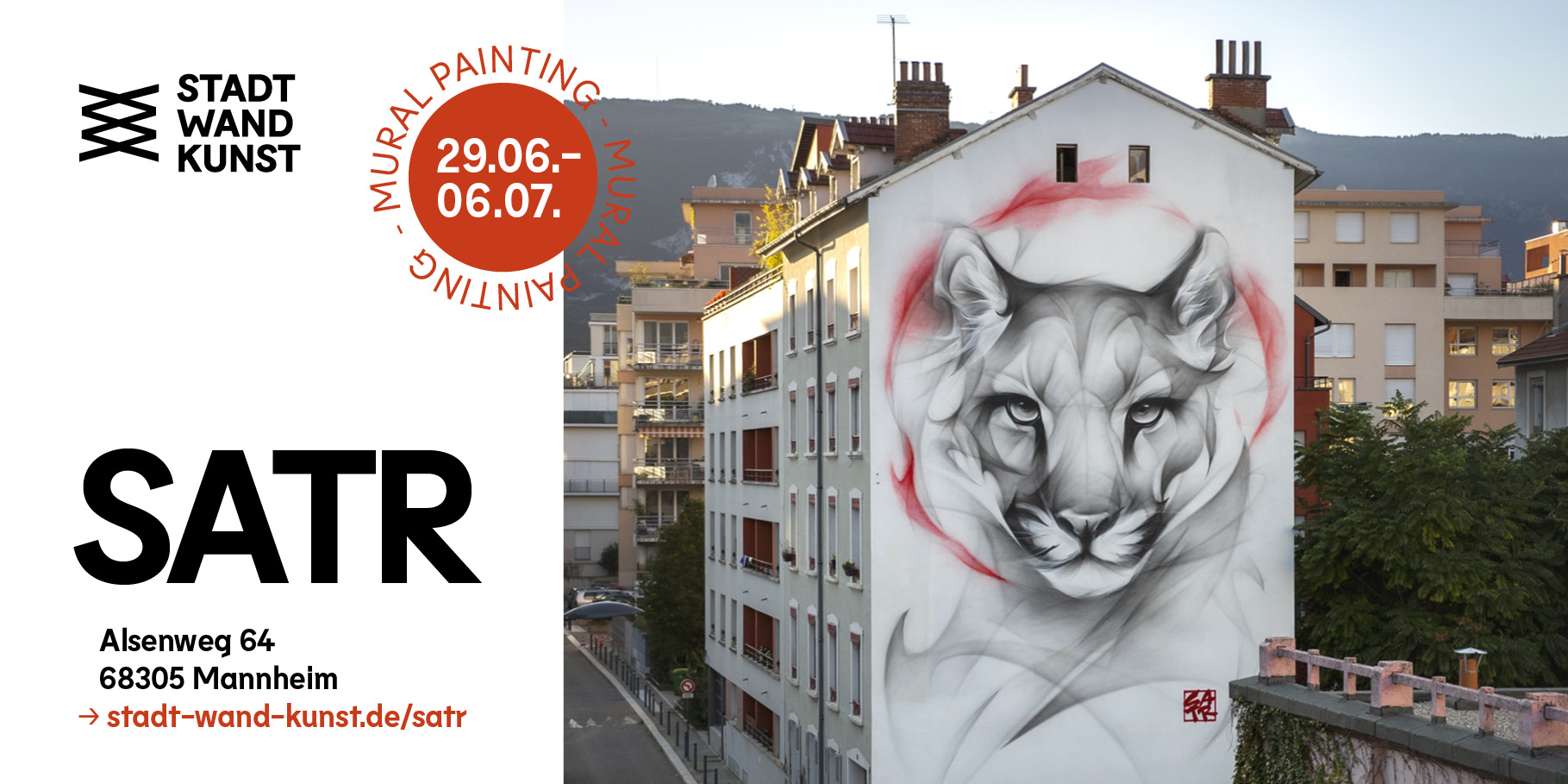 Seit 2013 beschäftigt sich SATR mit Street Art und Graffiti. In den vergangenen Jahren hat sie sich durch unablässiges Experimentieren und Erforschen eine originelle Technik der Zerstäubung von Sprühfarbe angeeignet, mit der sie einzigartige Konturen und Formen schafft. Die Kontrolle der Sprühdose spielte dabei von Anfang an eine zentrale Rolle: "Before I drew graffiti fonts, I would pay great attention to the ability of can control. Some lines should be accurate, and some effects should be handled elegantly. This has laid a solid foundation for my can control."
Neben Zerstäubung und Transparenz setzt SATR auch erfolgreich Tusche und Lavierung ein, um ein perfektes Gleichgewicht zwischen der Kühnheit westlicher Graffiti und den zarten Pinselstrichen östlicher Malerei zu schaffen. Ihr besonderer Stil lässt die Tiere in ihren Bildern extrem dynamisch erscheinen, mit einer rauchigen Qualität an ihren Rändern. Als Motive wählt sie oft starke und majestätische Charaktere aus der Tierwelt, wie Löwen, Geparden und Adler. Sie wirken kraftvoll und zugleich ätherisch und flüchtig – scheinbar immer auf dem Sprung.
"My understanding of my work is to take atomization as a form and try to combine it into a powerful image with seemingly weak and ethereal compositions.

SATR
Es gibt einen starken orientalischen Unterton in SATRs Arbeit, und sie erkennt diese Bedeutung durch die Verwendung von alten Siegelgravuren an. Ihre Arbeit füllt in der Regel nicht alle leeren Flächen aus, was dem Konzept des "Leerhaltens" in traditionellen chinesischen Kunstwerken entspricht und Raum für die eigene Vorstellungskraft lässt.
Obwohl SATR auch auf Papier und Leinwänden arbeitet, bleibt die Straße ihr bevorzugtes Wirkungsgebiet. "Whether I am invited or create by myself, I must leave my work on a wall." In ihrem Heimatland China beobachtet sie eine sich langsam etablierende Akzeptanz von Street Art. Erst in den letzten Jahren hätte die Kunstform vermehrt Einzug gehalten – vor allem in Metropolen wie Hong Kong and Shanghai. "In recent years, everyone has gradually begun to understand and accept this art culture. However, for the general public, it is still in the stage of trying to understand."
Hier wird das Mural von SATR entstehen