THE CAVER und SETH the GlobePainter und bei Stadt.Wand.Kunst
Weitere Murals entstehen in Kürze
Das Interesse am OPEN URBAN ART MUSEUM MANNHEIM ist ungebrochen und wir freuen uns über all die Mannheimerinnen und Mannheimer, die stolz sind auf ihre Stadt! Oder die Menschen, die ihren Urlaub hier verbringen, um sich die Kunst an den Wänden anzuschauen! Oder all die Leute, die die Stadt.Wand.Kunst-Führungen der Touristinfo mitmachen wollen — so viele, dass die Zahl der Führungen bis Ende des Jahres verdoppelt wurde!
Wie versprochen wird es ab Ende August weitere farbenprächtige STADT.WAND.KUNST-Aktionen an Mannheims grauen Großstadtwänden geben: Der portugiesische Underdog und faszinierende Künstler "The Caver" wird ab dem 28. August eine Fassade des Mercure Hotels in F7 neu gestalten. Und ab dem 2. September haben wir endlich die Pariser Street-Art-Legende "Seth" zu Gast in Mannheim, er wird eine kleine Wand der Mozartschule in M6 bemalen. Mit diesen beiden Murals werden dann seit 2013 insgesamt 38 Kunstwerke für STADT.WAND.KUNST entstanden sein, 30 im OPEN URBAN ART MUSEUM in Mannheim, davon 13 in den Quadraten.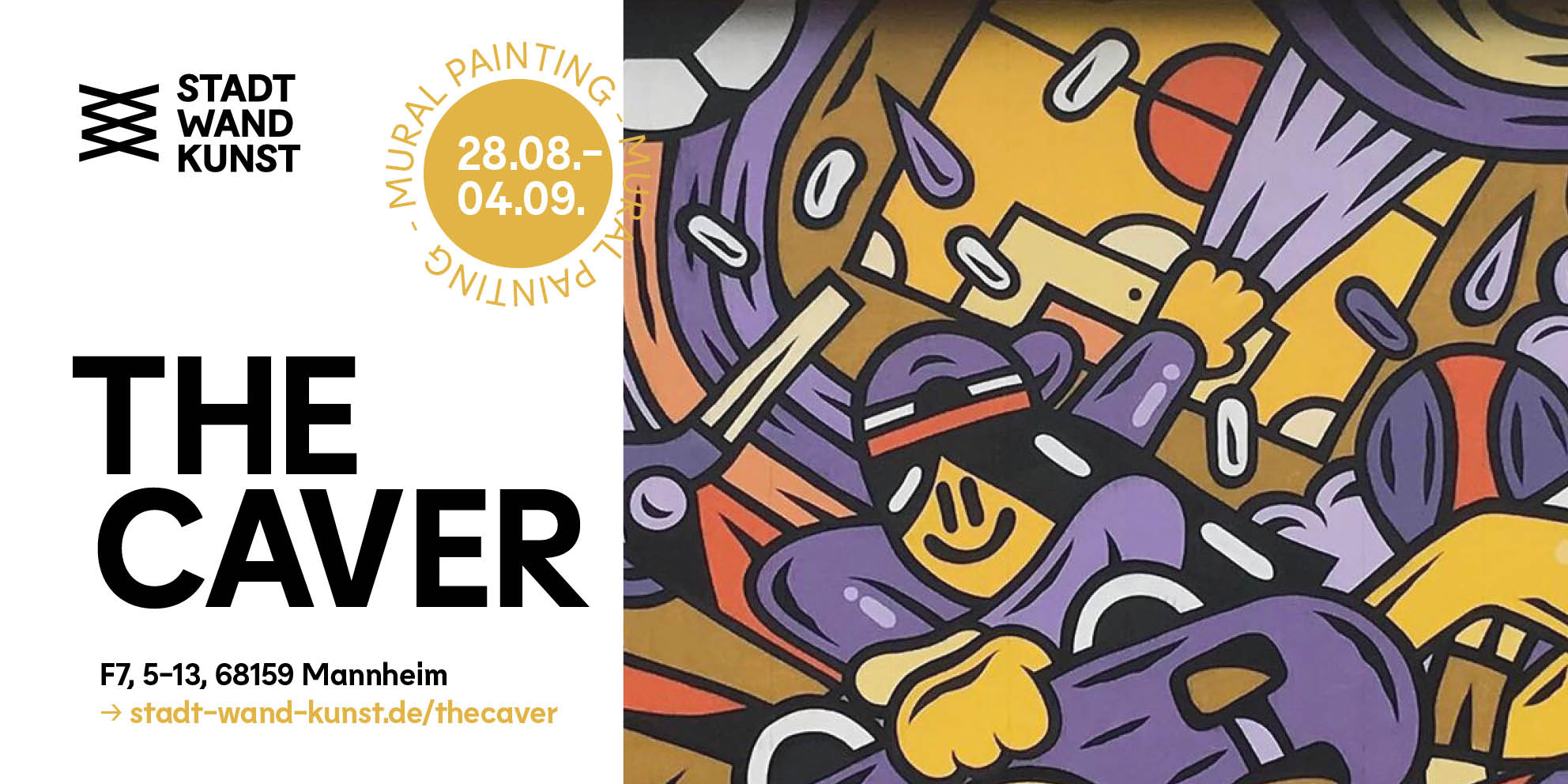 Hier entsteht das Mural von THE CAVER:
Trotz Corona – oder gerade wegen Corona – möchten wir noch mehr Kunst und Leben und Farbe und Anregung in die Stadt bringen! Glücklicherweise werden wir dabei unterstützt vom Impulsprogramm "Kultur Sommer 2020" des Ministeriums für Wissenschaft, Forschung und Kunst Baden-Württemberg. Auch mit diesem Künstler wird es also wieder spannend in Mannheims Straßen! THE CAVER arbeitet als Tätowierer, Illustrator, Grafikdesigner und vor allem als Street Artist, der — wie fast alle unsere Künstler — aus dem klassischen Graffiti kommt. Auch wenn THE CAVERs Arbeiten heute in vielen Städten in Galerien bewundert werden können, ist die Straße immernoch sein liebster Arbeitsplatz. Sein Style befindet sich in "constant upgrade", seine abstrakte Kunst zeichnet sich durch die Verwendung einfacher, aber sehr starker Formen und graphischer Elemente aus, welche kombiniert mit einer harmonischen Farbkomposition zu kraftvollen, rätselhaften Illustrationen wachsen. SETH versuchen wir schon seit Jahren nach Mannheim zu bekommen. Vielleicht hat uns in dem Fall (wie auch bei AKUT) Corona in die Karten gespielt und durch Absagen von weltweiten Aufträgen einen Slot in Mannheim ermöglicht. SETH gilt als einer der wichtigsten Street Artists der französischen Szene und hat auf allen Kontinenten der Welt seine künstlerischen Spuren hinterlassen, in Brasilien wie in China, sowohl in Indien als auch in Südafrika. Ab Mitte der 90er Jahre wurde er in Paris für seine "Characters", also das Malen von Figuren, bekannt.  Zentrales Motiv seiner poetisch anmutenden Kunst ist die Kindheit. Weiche, bilderbuchartige Motive, die sich angenehm in die Umgebung einfügen, farbenprächtig und ausdrucksstark, sind typisch für den französischen Street Artisten. Was er wohl an die Wand der Mozartschule zaubern wird?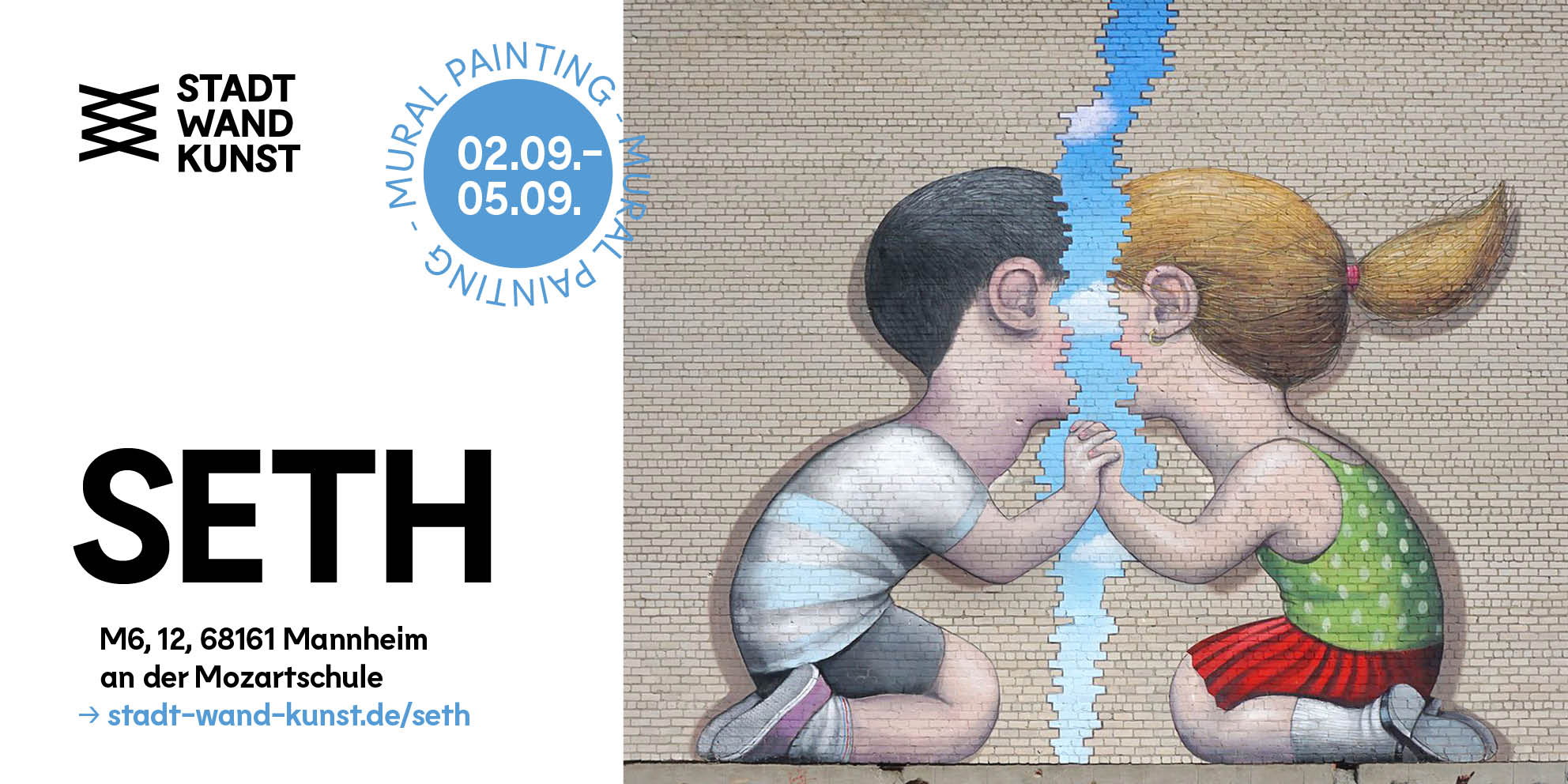 Hier wird das Mural von SETH entstehen:
Wir halten euch wie immer auf dem Laufenden über Facebook, Instagram & Co!