THE LONDON POLICE im Juli in Mannheim
Mural-Art von THE LONDON POLICE bei STADT.WAND.KUNST 2018
Nachdem wir zum diesjährigen Start von STADT.WAND.KUNST 1010 gewählt hatten, dicht gefolgt von WAONE INTERESNI KASKI steht nun THE LONDON POLICE vor der Tür! Mit den Gründungsmitgliedern dieses Künstlerkollektivs, Chaz Barrisson und Bob Gibson, kommen zwei Pioniere der globalen Street-Art-Bewegung nach Mannheim. Zusammen begannen die beiden Engländer Ende der 90er Jahre die Wände ihrer Wahlheimat Amsterdam mitzugestalten und daraufhin mit wechselnden Mitstreitern als THE LONDON POLICE die Welt zu bereisen und ihre figurativen Arbeiten in – bis heute – über 30 Ländern zu hinterlassen. Unterstützt werden die beiden von den Crewmitgliedern Chinny und Douglas.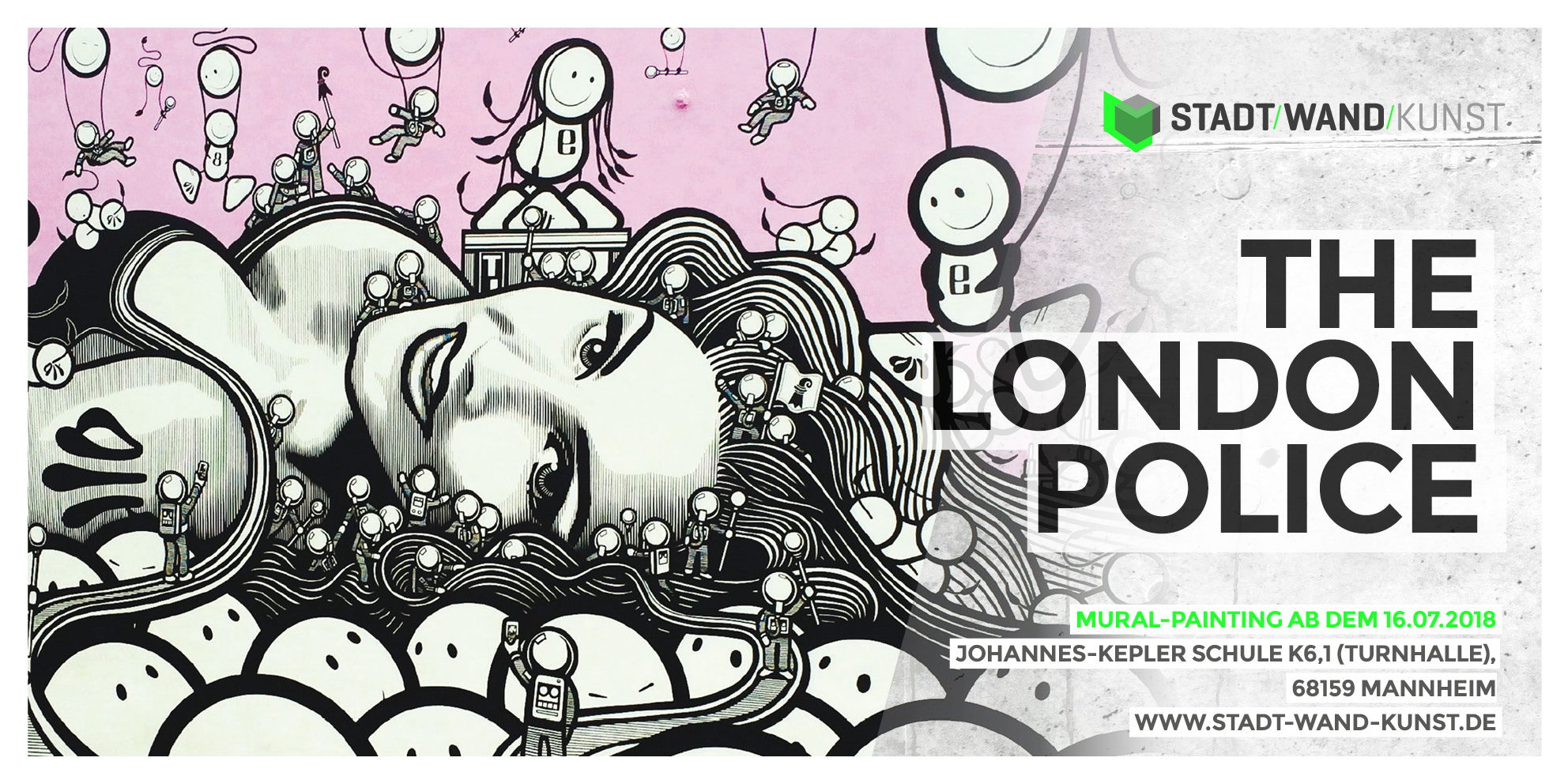 Die Arbeiten von THE LONDON POLICE zeichnen sich vor allem durch die klare Bildsprache und die figurativen Hauptdarsteller in Schwarz-Weiß aus. Insbesondere ihre LADS-Character haben inzwischen Kultstatus und gehören zu den prägnantesten Motiven in der Geschichte der Street-Art. Vor allem bei ihren großformatigen Murals kombinieren THE LONDON POLICE diese mit flächigen, oft einfarbigen Hintergründen und arrangieren sie in grafisch illustrierte Szenerien.
Mit THE LONDON POLICE präsentiert STADT.WAND.KUNST in diesem Jahr – nicht nur aufgrund der Maße der Fassade, die sie gestalten – eine wahre Größe der Urban Art. Die Künstlergruppe malt vom 16.07. bis zum 22.07.18. die Turnhallenwand der Johannes-Kelper Schule und ihre Arbeit wird während und nach ihrer Fertigstellung, wie alle Werke von STADT.WAND.KUNST, frei zugänglich sein.