THE CAVER (Lissabon/Portugal)
"Da bringt uns jemand den Sommer zurück nach Mannheim". Das war der erste Gedanken eines Passanten beim Anblick des neuen Murals von THE CAVER in F7. Genauso haben wir uns auch gefühlt in den fünf Tagen Anfang September, in denen der portugiesische Street Artist die ca. 15 Meter hohe Wand in eine neuronale Achterbahnfahrt verwandelt hat. "Feels Like Home" ist ein klassischer THE CAVER: eine harmonische und kraftvolle Farbkombination, abstrakte Formen und Figuren, fette Outlines und 100 % Sprühdose. Auch wenn er ein eigenes Tattoo-Studio führt, ein Klamottenlabel gegründet hat oder als Illustrator und Graphikdesigner sein Geld verdient, so fühlt er sich am wohlsten beim Sprayen auf der Straße oder in stillgelegten Fabrikhallen. Ungefähr 15 großformatige Wandgemälde hat er bisher gemalt, je größer, desto besser.
In "Feels Like Home" entdecken wir scheinbar wahllos zusammen gewürfelte Schachfiguren, Bücher, Bleistift und Sprühdose, einen Globus, eine Büste, eine Kerze. Alles Gegenstände aus THE CAVERS Wohnzimmer in Porto. Als er die Vorbereitungen für seine Reise nach Mannheim traf und sich Gedanken über das Motiv machte, kam ihm die Idee, doch einfach Gegenstände aus seinem dortigen Leben mit hierher zu bringen. Und weil er die Nacht so liebt, noch den Mond und einen Stern. Und weil er so gerne Punkrock hört, noch einen Blitz. Und weil er Fan des Absurden ist, kugeln einzelne Augäpfel durchs Bild. Die Skizze hat er auf seinem Tablet digital entworfen und in Mannheim mit Hilfe eines vorgezeichneten Rasters Quadrat für Quadrat an die Wand gebracht. Um die 200 Farbdosen hat er dabei verbraucht.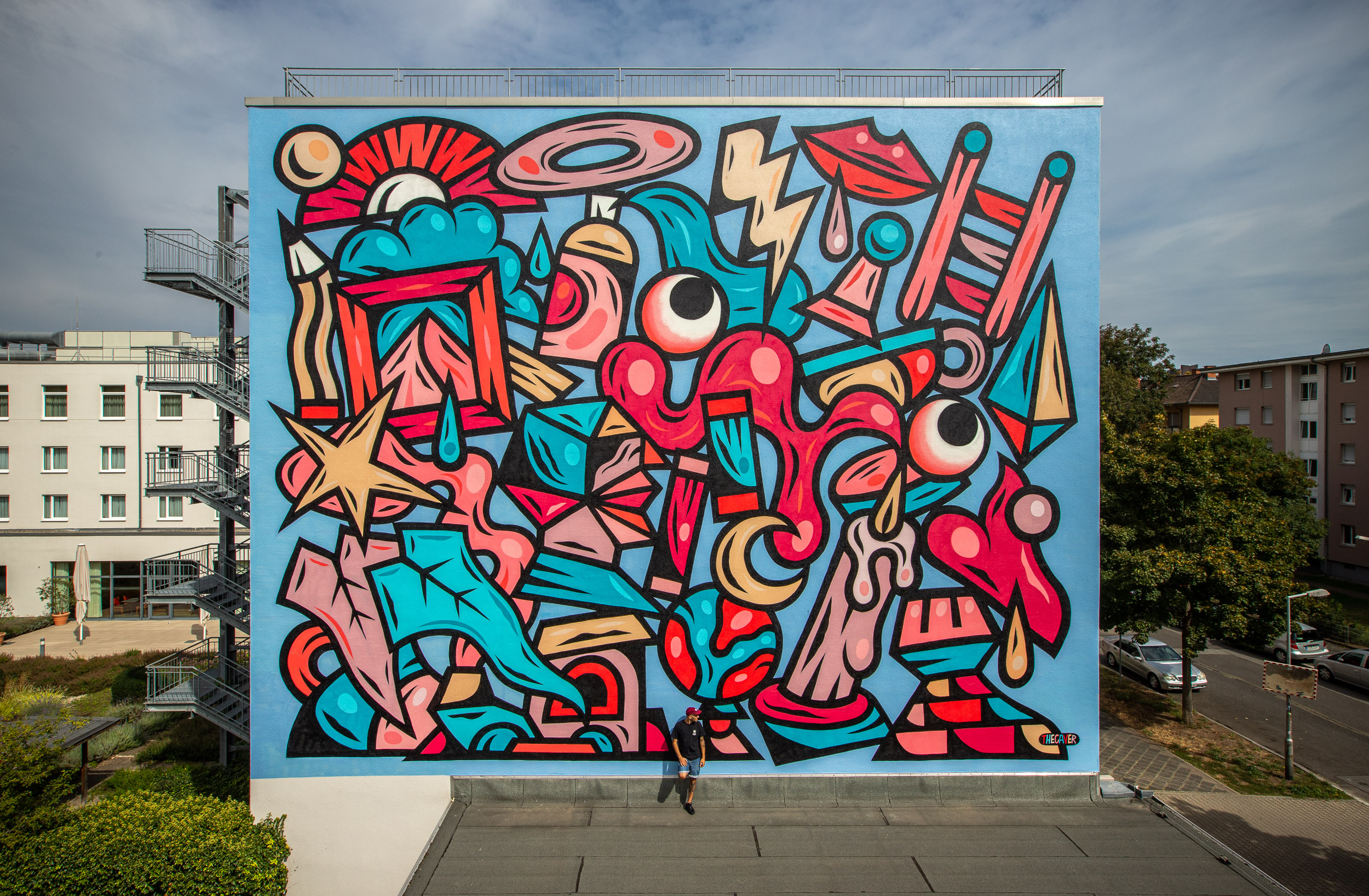 Bisherige Werke des Künstlers