Seth GlobePainter (Paris/Frankreich)
Begleitet von zahlreichen Fans, Fotografen, neugierigen Passanten, Spaghettieis und Espressi fertigte SETH, einer der bekanntesten französischen Street Artists, das kleinste Mural der bisherigen Stadt.Wand.Kunst-Reihe an. Gleichzeitig ist es auch eins der anmutigsten und tiefgründigsten in Mannheim.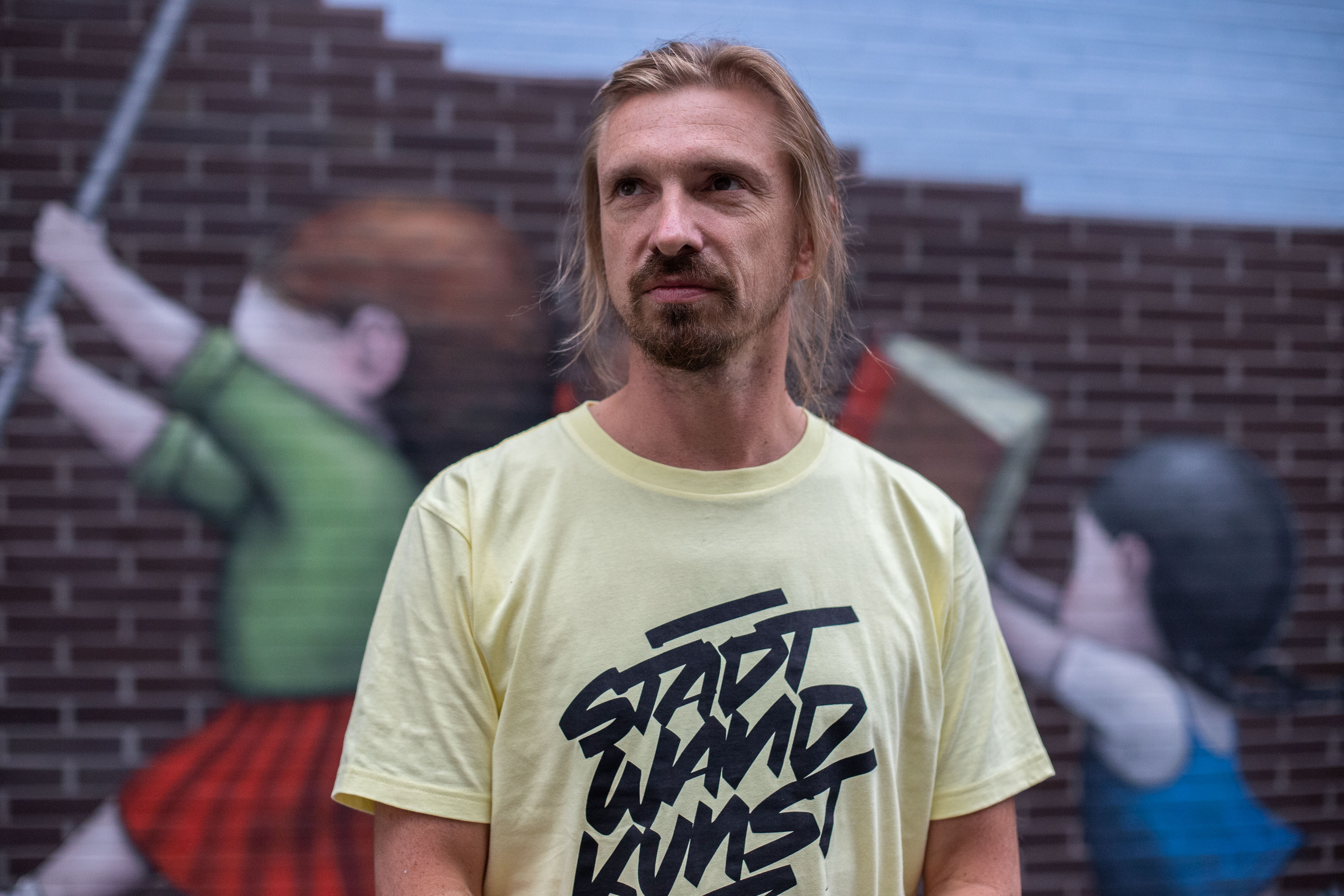 "Skipping School / L'ecole Buissonniére" ist das erste Mural, dass SETH in Deutschland anfertigt. All die Jahre bzw. Jahrzehnte sei er auf seinen unzähligen Reisen lieber weit weg in fernen Ländern unterwegs gewesen. Corona und das zunehmende Alter einhergehend mit den Schwierigkeiten, den Jetlag zu handeln, zwingen in, Aufträge nicht mehr ganz so weit weg von seiner Heimatstadt Paris anzunehmen, verriet der charmante Künstler mit einem Augenzwinkern. Überhaupt bringe die aktuelle Krise — wie grundsätzlich jede Krise — seine Kreativität in Schwung und inspiriere ihn zu neuen Denkanstößen und Motiven. So entstanden in den letzten Wochen und Monaten an diversen Hausfassaden in Paris eine ganze Reihe von SETH-Murals, alle mit dem gleichen Untertitel "I take advantage of a Paris emptied of its population to paint my feelings about our new world." Schön anzusehende Motive mit Kindern eignen sich laut SETH hervorragend, um auch schwerwiegendere Themen darin zu verpacken und sich trotzdem eine breite Aufmerksamkeit zu sichern.
Universell wie sein Künstlername SETH GLOBEPAINTER ist auch die Sprache, die Julien Malland, wie er mit bürgerlichem Namen heißt, mit seiner Kunst spricht. Damit passt sein Mural so wunderbar in unsere einzigartige Quadratestadt, in der Menschen aus über 170 Nationen zusammenleben. Unter ihnen jetzt auch drei entschlossene Schul- schwänzerInnen auf dem Weg Richtung Zukunft!
Das Mural "L'École Buissonnière" (2020) in Mannheim
M6, 12, 68161 Mannheim (an der Mozartschule)
Bisherige Werke des Künstlers SETH