Waone Interesni Kazki (Kiev/Ukraine)
Im Juli 2018 hat der ukrainische Künstler WAONE INTERESNI KAZKI sein Mural mit dem Titel "Jump through time" in der Itzsteinstraße 1-3 (Rückseite) in der Neckarstadt-West vollendet. Ursprünglich hatte er für das Motiv einen anderen Hintergrund vorgesehen, entschied sich aber dann vor Ort dafür, die Bäume der Umgebung mit ins Bild hineinzuholen. Einen "Master of Colours" nannte ihn beim Anblick des Werkes eine etablierte Kunsthistorikerin, die im Auftrag der Mannheimer Touristinformation "Stadt.Wand.Kunst"-Führungen leitet. Zur Bedeutung dieser detailreichen, surrealen Bilderwelt wollte sich der zurückhaltende Künstler vorerst nicht äußern, er möchte dem Betrachter vielmehr eine völlig freie, persönliche Interpretation erlauben: "Im not writing any description about the work here. First, I want to give you freedom to interpret it by your own." Später gab er die Idee hinter dem Bild in den sozialen Medien preis: Das Motiv sei eine Metapher für die Zeitreise. "Es geht um den Moment, in dem der Verstand so schnell rast, dass man das Ergebnis der Aneinanderreihung zahlreicher Ereignisse sehen kann." Um den Moment, in dem man die Zeit verlangsamen könne.
Das WAONE Mural in Mannheim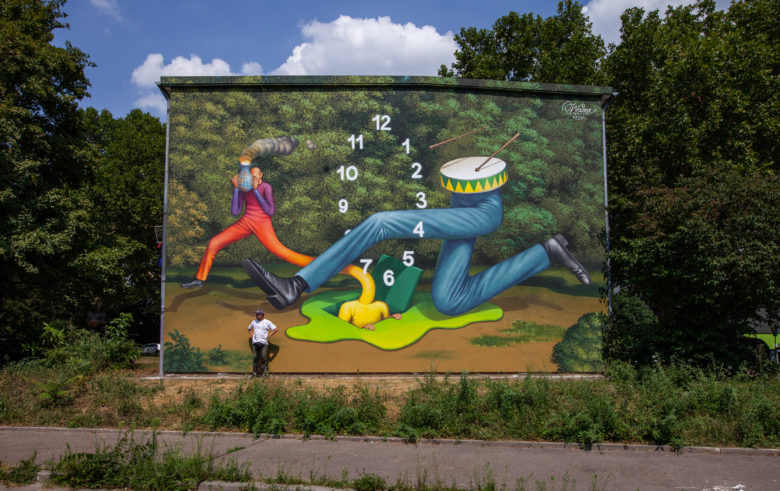 WAONE "Jump through time" auf der Rückseite des Gebäudes Itzsteinstraße 1-3, in Richtung Helmholzstraße.
Bisherige Werke des Künstlers WAONE: