Das fertige Mural von SATR für Stadt.Wand.Kunst
Das Mural "Whisper" im Alsenweg 64, Mannheim
Drei Jahre, 60 E-Mails und diverse Lockdowns später hat es die chinesische Künstlerin SATR endlich nach Mannheim geschafft – und das lange Warten mit einem einzigartigen Mural belohnt. "Whisper" heißt es und zeigt Panther und Leopard, die sich vertraut einander zuwenden und miteinander kommunizieren. Ihr intimer Austausch scheint anmutig und flüchtig zugleich – zwei Merkmale, die vor allem durch SATRs bemerkenswerten Stil evoziert werden, indem sie ihre Motive in rauchähnlichen, ätherischen Formen zeigt, statt auf harte Konturen zu setzen. Eine Technik, die sich die junge Künstlerin aus Guangzhou durch jahreslanges Experimentieren mit der Zerstäubung transparenter Sprühfarbe angeeignet hat, und ihren Murals weltweit einen hohen Wiedererkennungswert verleiht.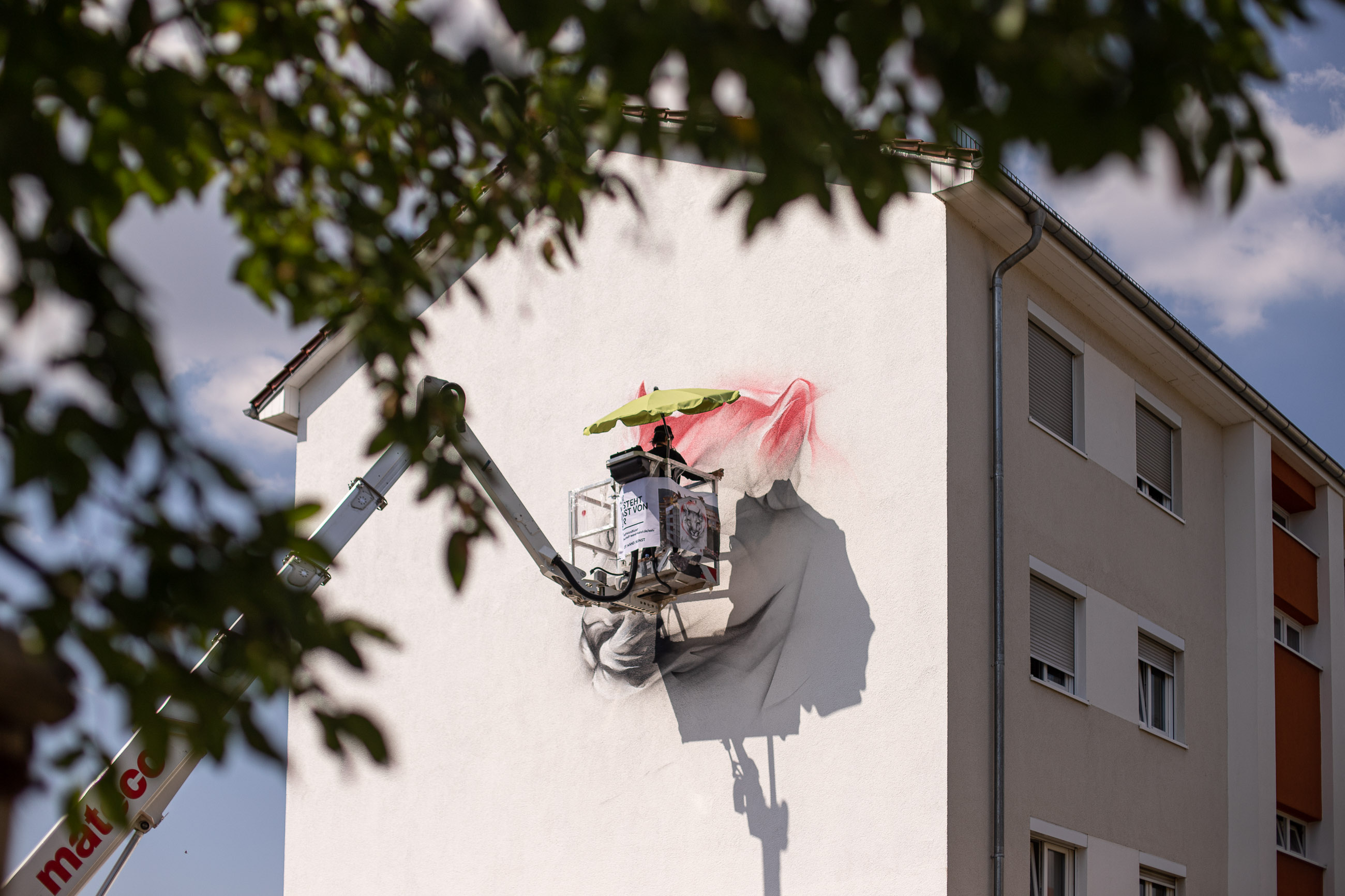 Wie in all ihren Murals wählt SATR auch in "Whisper" Tiere als Hauptmotiv. Während der Panther den Betrachter:innen seinen dunklen Rücken kehrt und sich dem Leoparden zuwendet, zeigt sich dieser frontal seinem Publikum, mit rotleuchtendem Haupt. Seinen Blick lässt er in eine unbestimmte Ferne schweifen, während er dem Gefährten lauscht. In welcher Beziehung die beiden Tiere zueinanderstehen, lässt SATR offen, betont aber: "The mural shows human emotions in the animal world."
Die traditionell chinesische Kunst lässt SATR vor allem durch das Prinzip des positiven und negativen Raums in ihre Werke einfließen. Der positive Raum ist durch das Motiv des Murals ausgefüllt, der negative Raum ist der Platz, den sie bewusst auf jeder Fassade frei lässt – und der offen ist für die eigene Vorstellungskraft. Durch SATRs Art, den Rändern ihrer Motive eine transparente, schwebende Qualität zu geben, stehen die beiden Räume in keinem Widerspruch. Im Gegenteil: vielmehr in einem harmonischen Miteinander.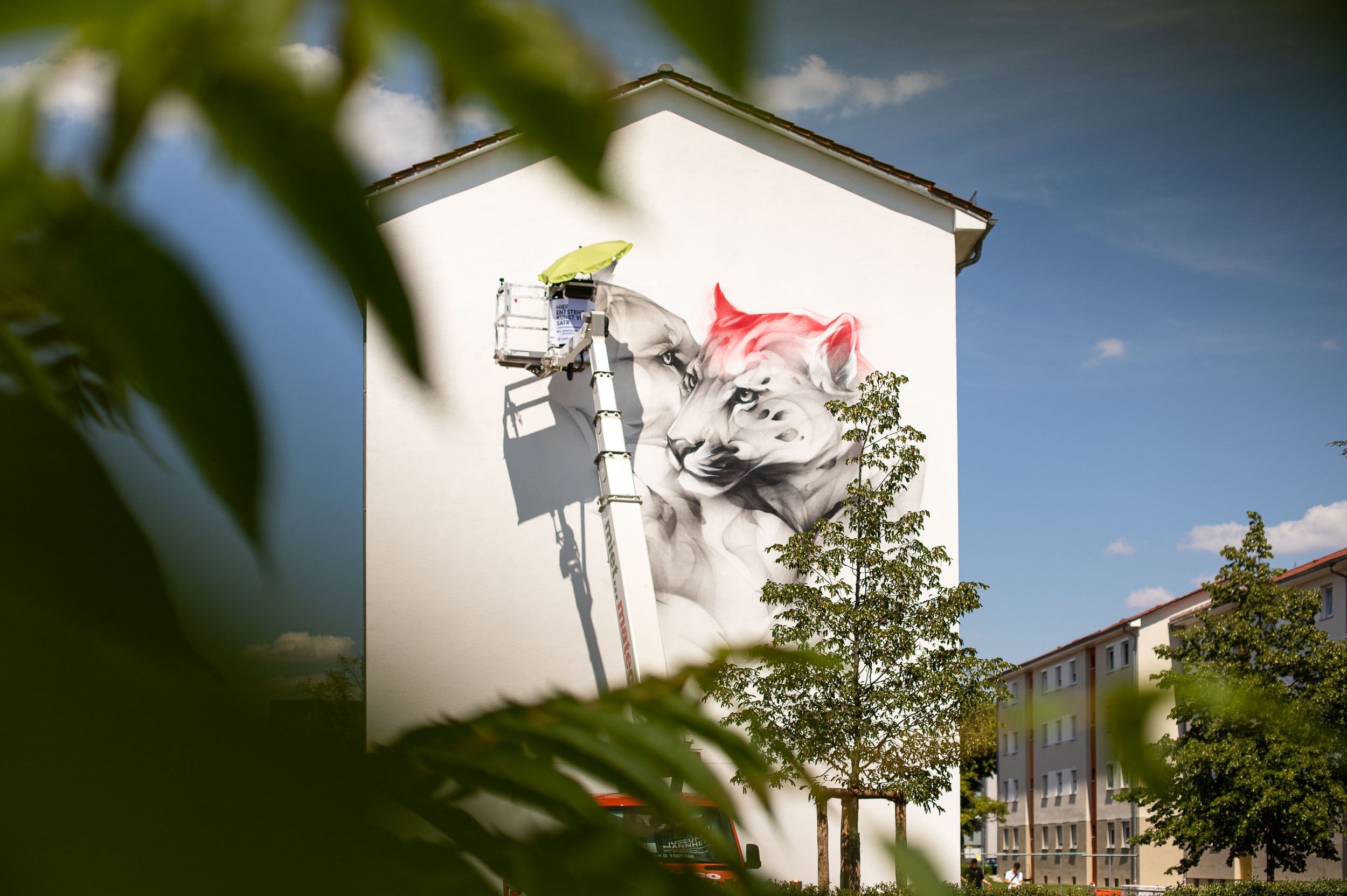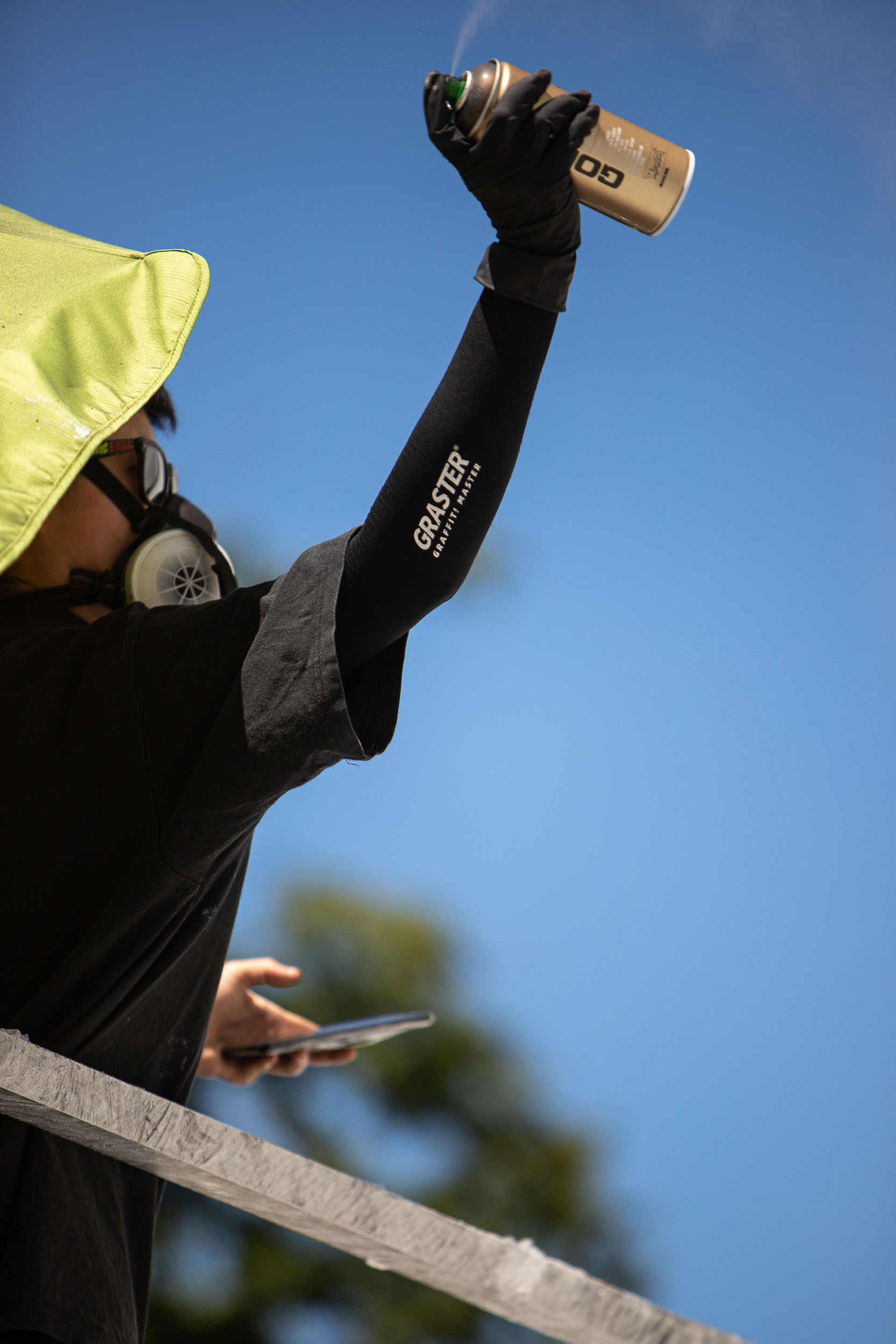 Die Umgebung eines neuen Murals bringe für SATR immer einen ganz eigenen Charakter mit sich. "The environment, the weather, the touch of the wall – it all helps to connect to the mural." Die Bewohner:innen des Waldhofs haben auf sie und ihre Kunst neugierig und begeistert reagiert. Das sei in China teilweise noch anders. Die Street-Art-Szenen in ihrem Heimatland und Europa unterscheiden sich sehr, erzählt uns SATR. Wo in Frankreich und Deutschland schon jede:r den Namen Banksy gehört hätte, sei er in China teilweise komplett unbekannt. Doch die Menschen würden sich langsam an die neue Kunstform gewöhnen, sie nach und nach akzeptieren. Das hoffen auch wir. Denn SATRs Murals verdienen nicht nur Akzeptanz, sondern auch eine gehörige Portion Respekt und Bewunderung.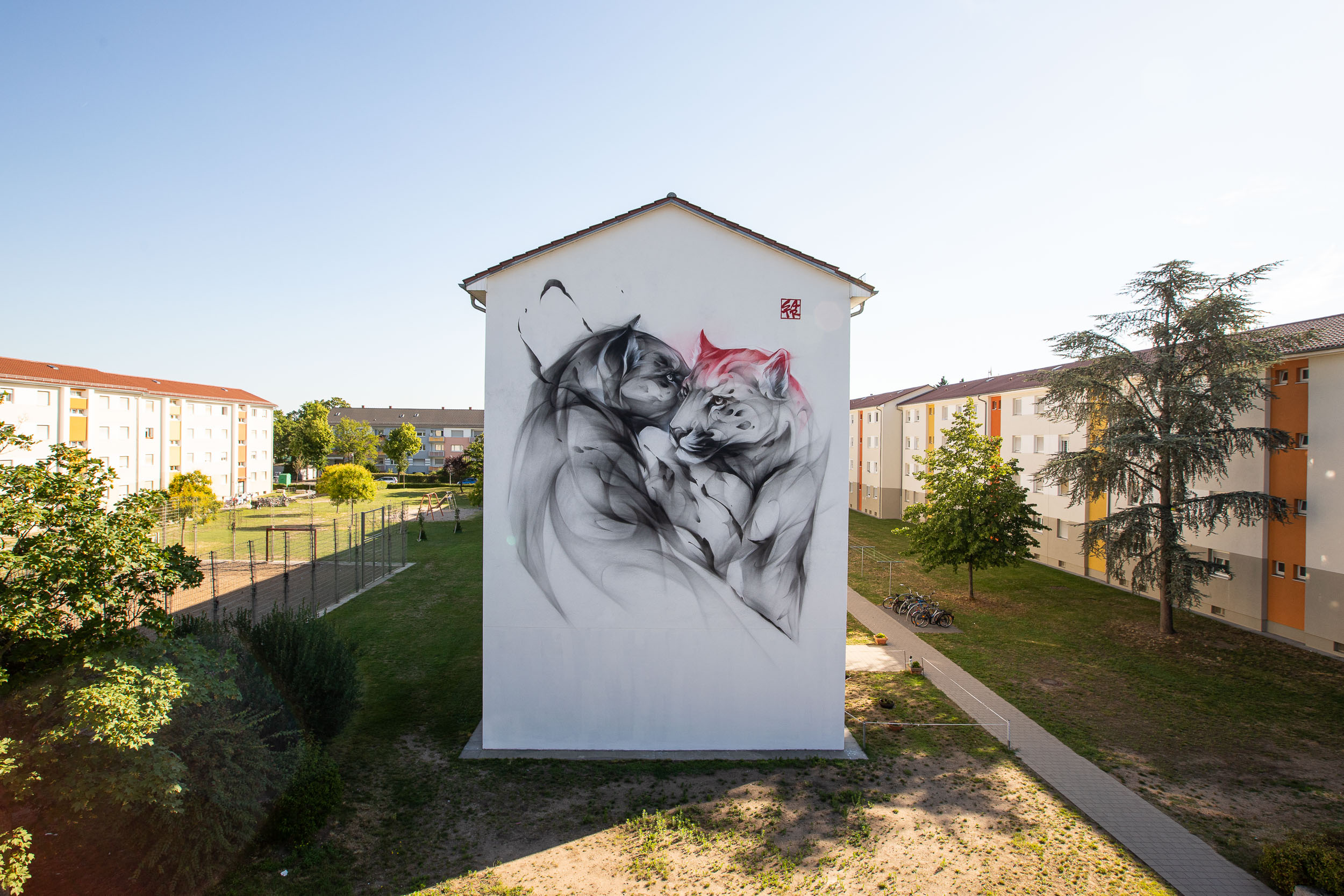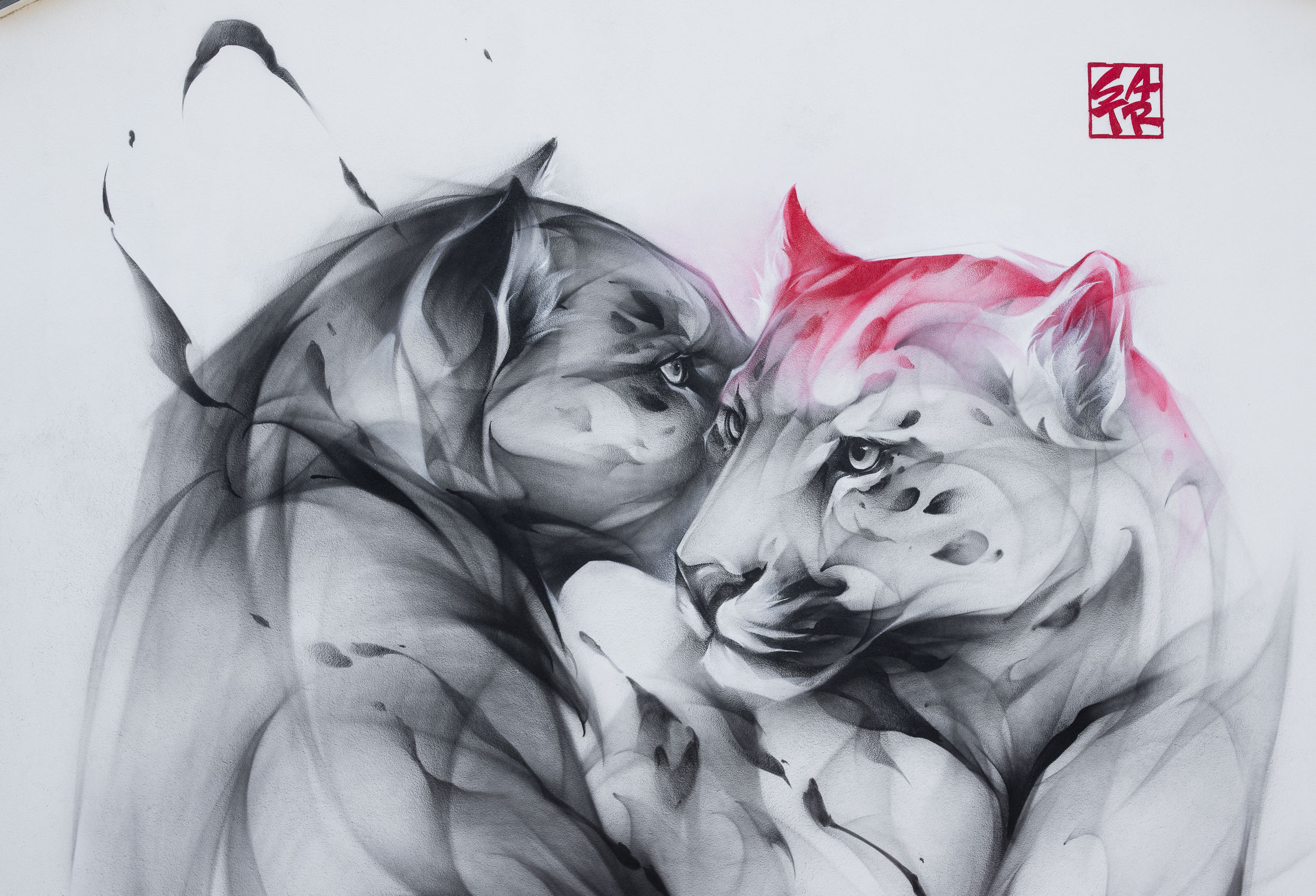 Text: Johanna Hasse; Fotografie: © Alexander Krziwanie / STADT.WAND.KUNST