Das fertige Mural von ARYZ für Stadt.Wand.Kunst
Das Mural "El entreacto" in A4, 1
Mannheims Innenstadt ist um ein Mural reicher – und zwar um eines des weltweit bekannten spanischen Künstlers ARYZ. Rund sieben Tage hat Octavi Arrizabalaga, der sich hinter dem Künstlernamen verbirgt, hochkonzentriert und bei weitestgehend gutem Wetter an seinem Mural gearbeitet. Bestaunen könnt ihr das fertige Werk an der Fassade von A4, 1 in Mannheim.
Mit seinem Mural hat ARYZ die STADT.WAND.KUNST-Saison gebürtig und spannungsreich eröffnet. Im wahrsten Sinne: Erst einen Tag vor seiner Ankunft hat er das Motiv entworfen. "I like the sketch to be fresh, so it's more fun to work on it", hat uns der sympathische Künstler aus Spanien verraten. So blieb auch für alle Beteiligten das Motiv bis zum letzten Moment eine wahre – und mehr als gelungene – Überraschung.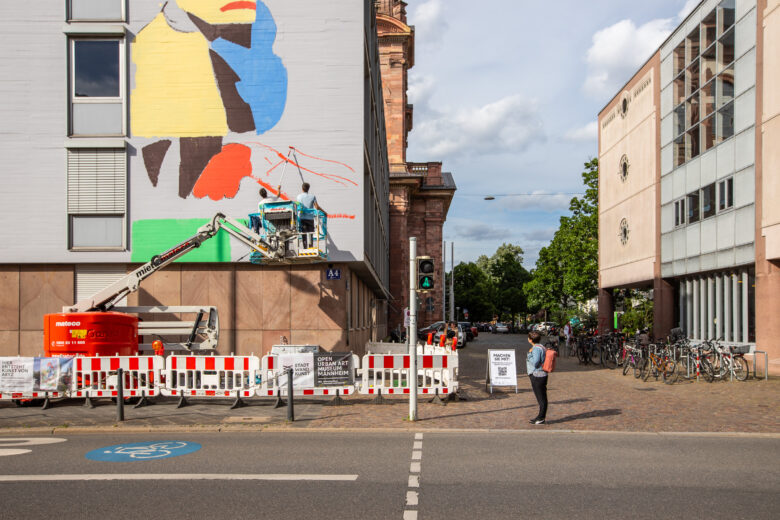 Das Mural zeigt einen imposanten Löwen in einer ruhenden Position, umgeben von abstrakten Pflanzenfragmenten. In seiner collagenhaften Darstellung greift ARYZ verschiedene Stile auf – von plastisch anmutenden Elementen hin zu abstrakten, expressionistischen und floralen Formen. An einigen Stellen wurde das Motiv detailliert ausgearbeitet und erinnert fast an eine Marmorstatue, an anderen Stellen hingegen wurden etwa Tatze und Blumen lediglich mit wenigen Strichen umrissen, wie mit einem Wachsmalstift skizziert. Der Hintergrund des Murals ist in einem erdigen Terrakottaton gehalten, der unaufdringlich die Fassadenfarbe der dahinterliegenden Jesuitenkirche aufgreift, und sich dadurch harmonisch in die umliegende Architektur einfügt. Der Löwe und seine florale Umgebung hingegen fallen durch kräftige Komplementärfarben auf.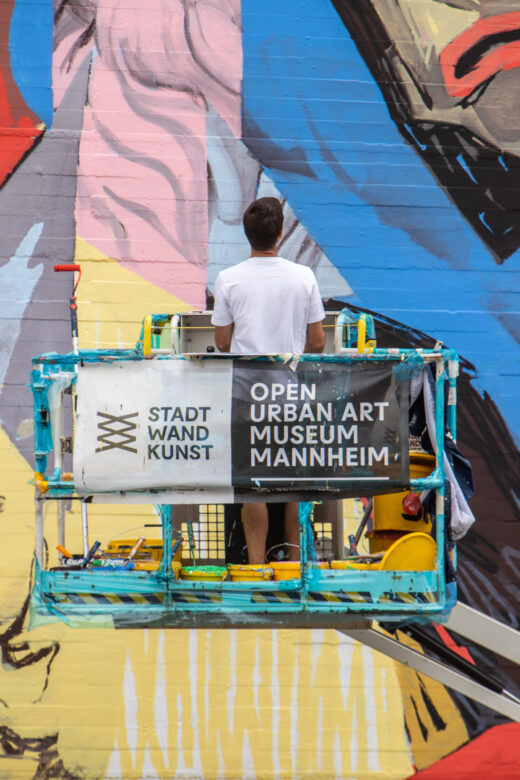 Das Motiv des Löwen habe er gewählt, da er sich in letzter Zeit vermehrt der künstlerischen Darstellung von Tieren zugewandt hat – sowohl in seiner Arbeit im Studio als auch auf der Straße. Vermehrt greift er kürzlich Motive und Stile der Jagdmalerei auf, gestaltet und interpretiert sie jedoch auf seine eigene Weise neu. Erst nach seiner Ankunft erfuhr ARYZ, dass er mit dem Löwen zufällig sowohl das Mannheimer als auch das Baden-Württembergische Wappentier gewählt hat. "Welche Bedeutung der Löwe in meinem Bild hat, überlasse ich aber frei den Interpretationen der Betrachtenden. Manchmal sind die sogar besser als meine eigenen."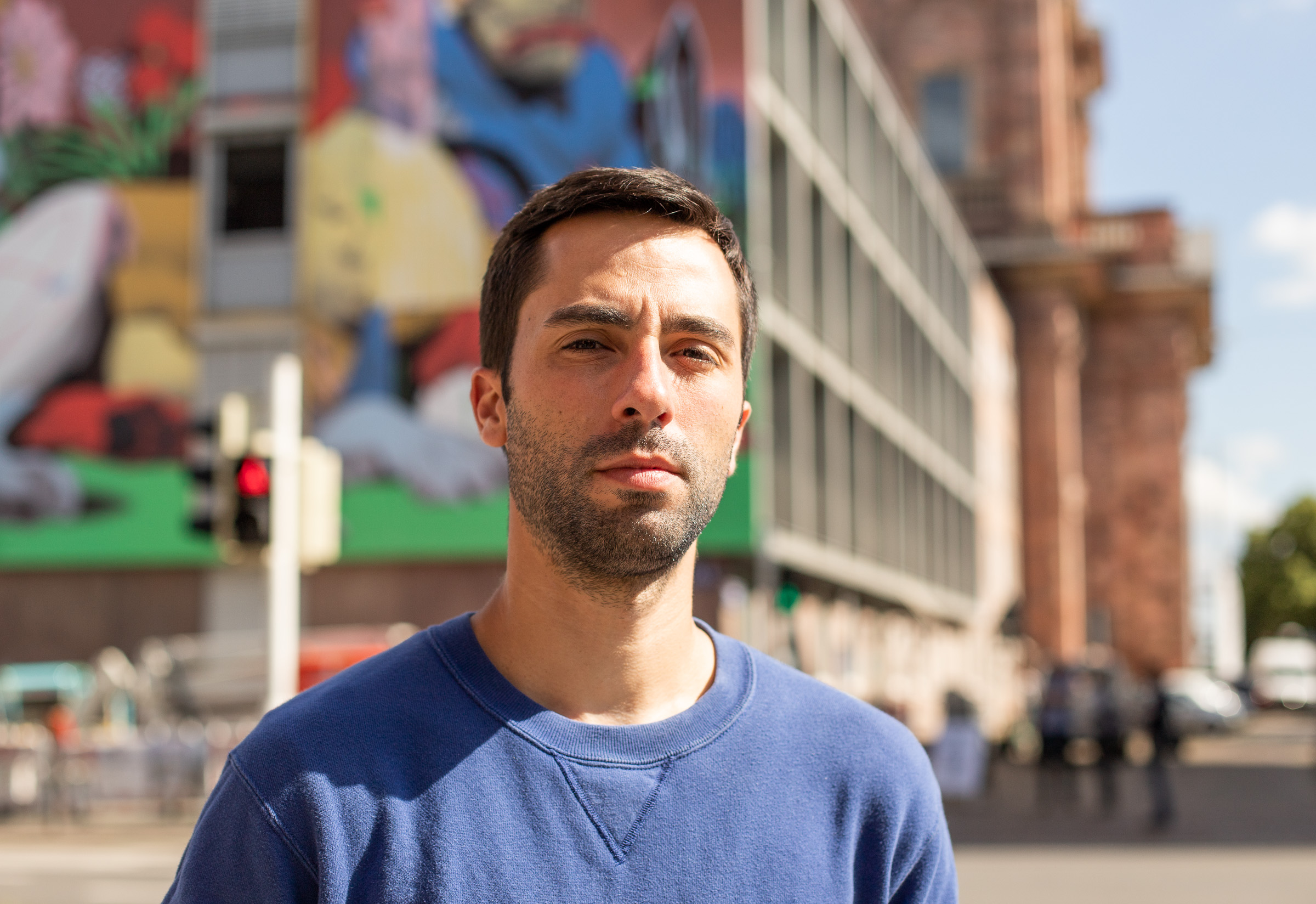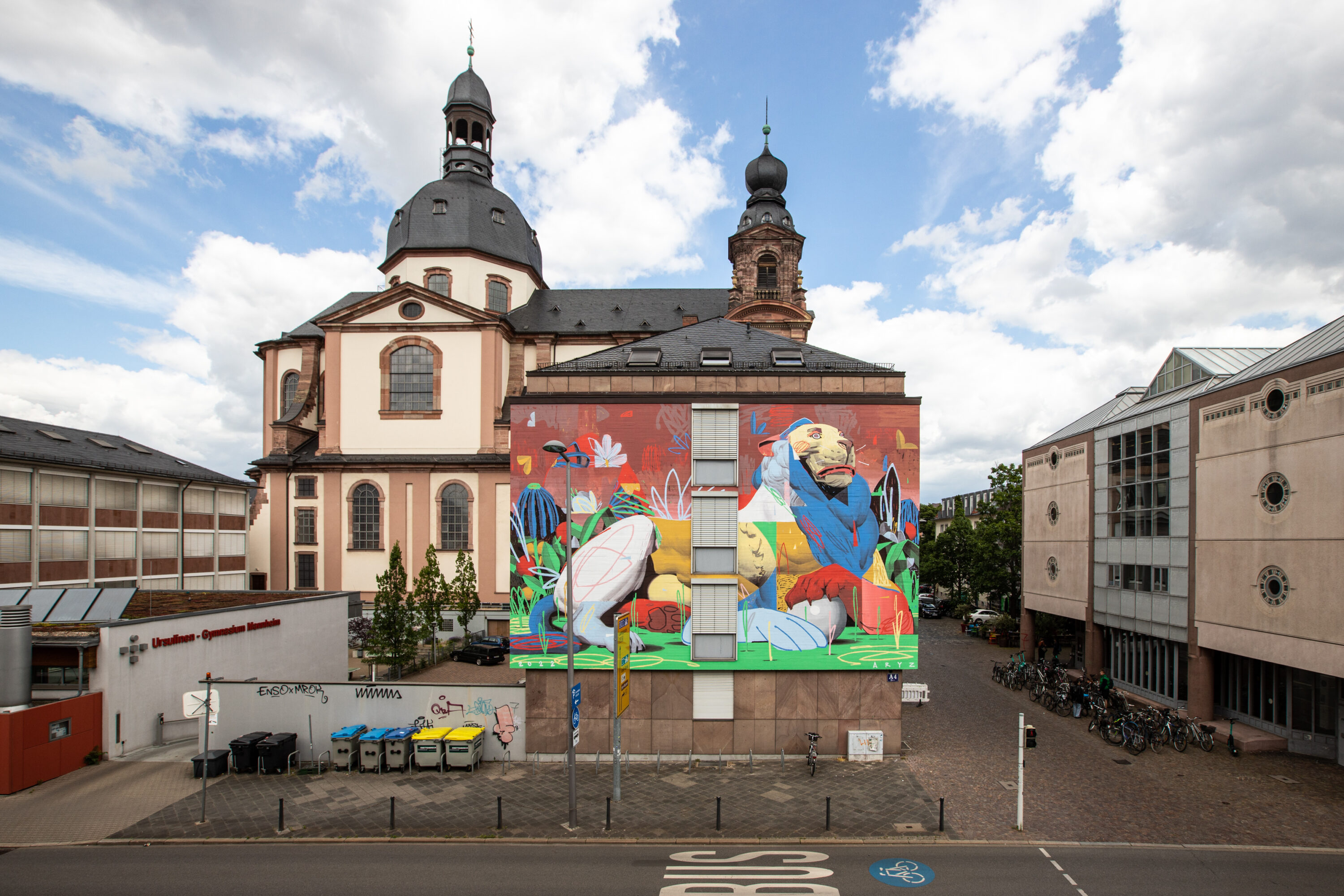 Text: Johanna Hasse; Fotografie: © Alexander Krziwanie / STADT.WAND.KUNST
Das Mural von ARYZ entstand in Zusammenarbeit mit dem Referat Kunst, Kultur, Kirche der Erzdiözese Freiburg, der Katholischen Hochschulgemeinde und der Katholischen Kirche in Mannheim.