Fertiges Mural von The Caver "Feels Like Home"
"Da bringt uns jemand den Sommer zurück nach Mannheim". Das war der erste Gedanken eines Passanten beim Anblick des neuen Murals von THE CAVER an der Fassade des Mercure-Hotels, auf dem Dach der Kindergrippe in F7. Genauso haben wir uns auch gefühlt in den fünf Tagen Anfang September, in denen der portugiesische Street Artist zusammen mit seinem Assistenten "Virus" von morgens bis abends die ca. 15 Meter hohe Wand in eine neuronale Achterbahnfahrt verwandelt hat. "Feels Like Home" ist das 37. Mural seit Etablierung von STADT.WAND.KUNST im Sommer 2013 und das 12. Mural, das in den Quadraten besichtigt werden kann.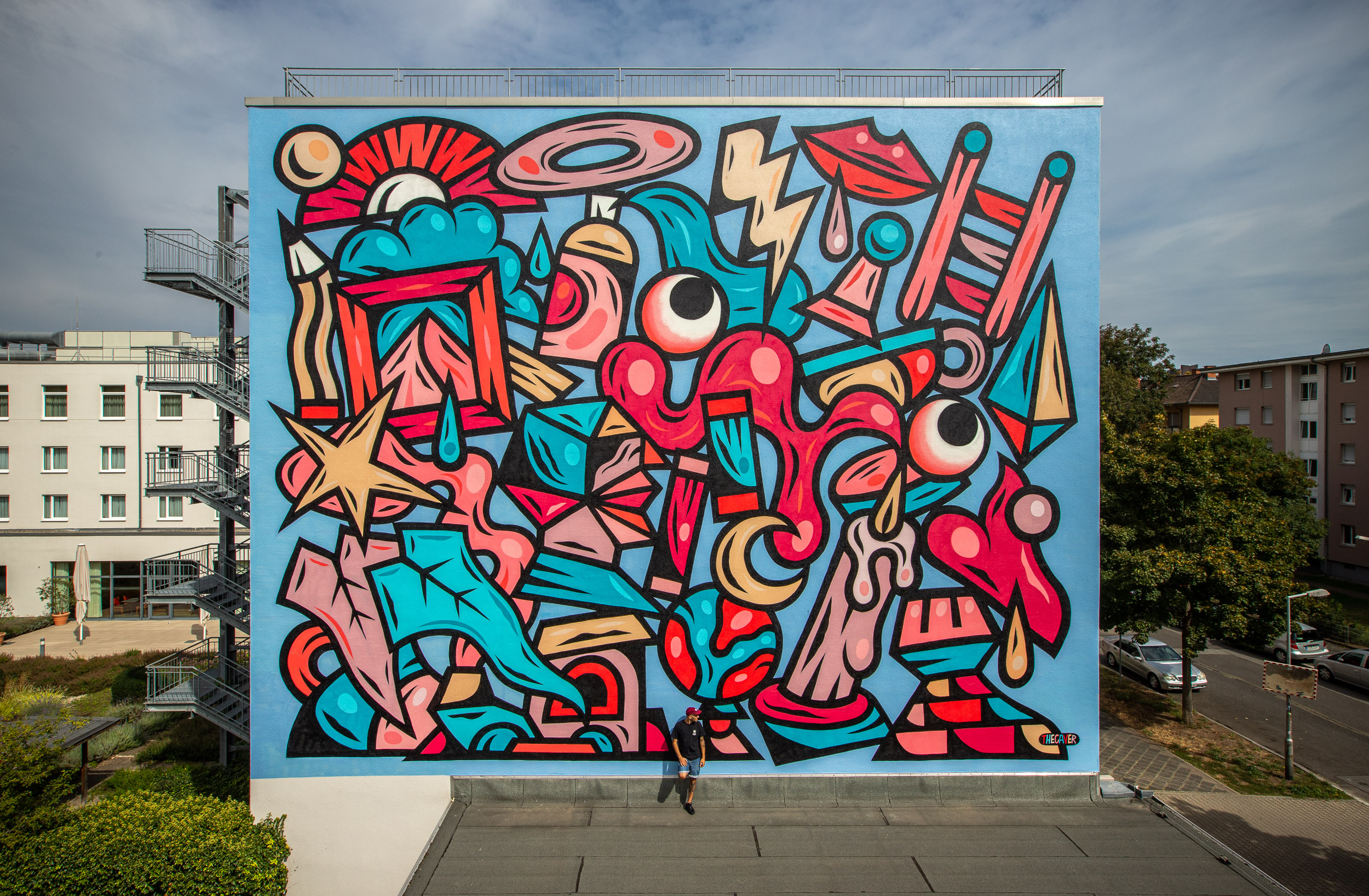 THE CAVER "Feels Like Home" (2020); F7, 5-13 68159 Mannheim (Mercure Hotel) Foto: Alexander Krziwanie / STADT.WAND.KUNST
Es ist ein klassischer THE CAVER geworden: eine harmonische und kraftvolle Farbkombination, abstrakte Formen und Figuren, fette Konturen und 100 % Sprühdose. All das verrät uns seinen künstlerischen Backround, sein Zuhause ist Graffiti, dem er im Alter von 15 Jahren verfallen ist. Auch wenn er ein eigenes Tattoo-Studio führt, ein Klamottenlabel gegründet hat oder als Illustrator und Graphikdesigner sein Geld verdient (zuletzt entwickelte er ein neues CI für Portugals bekannteste Biermarke), so fühlt er sich am wohlsten beim Sprayen auf der Straße oder in stillgelegten Fabrikhallen. Ungefähr 15 großformatige Wandgemälde hat er bisher gemalt, je größer, desto besser. Eine 150 Quadratmeter große Häuserwand bekommt er schneller fertig als eine ein Quadratmeter große Leinwand in seinem Atelier, auch wenn wer am Ende eines Arbeitstages an einer überdimensionalen Fassade völlig erschöpft und mit wackeligen Knien ins Bett fällt. Denn das Abfedern und Ausbalancieren der motorisierten Hebebühne sind ein Kraftakt.

Das Video zur Entstehung
In "Feels Like Home" entdecken wir scheinbar wahllos zusammen gewürfelte Schachfiguren, Bücher, Bleistift und Sprühdose, einen Globus, das Bild eines Bergs, eine Büste, eine Kerze. Alles Gegenstände aus THE CAVERS Wohnzimmer in Porto. Als er die Vorbereitungen für seine Reise nach Mannheim traf und sich Gedanken über das Motiv machte, kam ihm die Idee, doch einfach Gegenstände aus seinem dortigen Leben mit hierher zu bringen. Und weil er die Nacht so liebt, noch den Mond und einen Stern. Und weil er so gerne Punkrock hört, noch einen Blitz. Und weil er Fan des Absurden ist, kugeln einzelne Augäpfel durchs Bild. Die Skizze hat er auf seinem Tablet digital entworfen und in Mannheim mit Hilfe eines vorgezeichneten Rasters Quadrat für Quadrat an die Wand gebracht. Um die 200 Farbdosen hat er dabei verbraucht.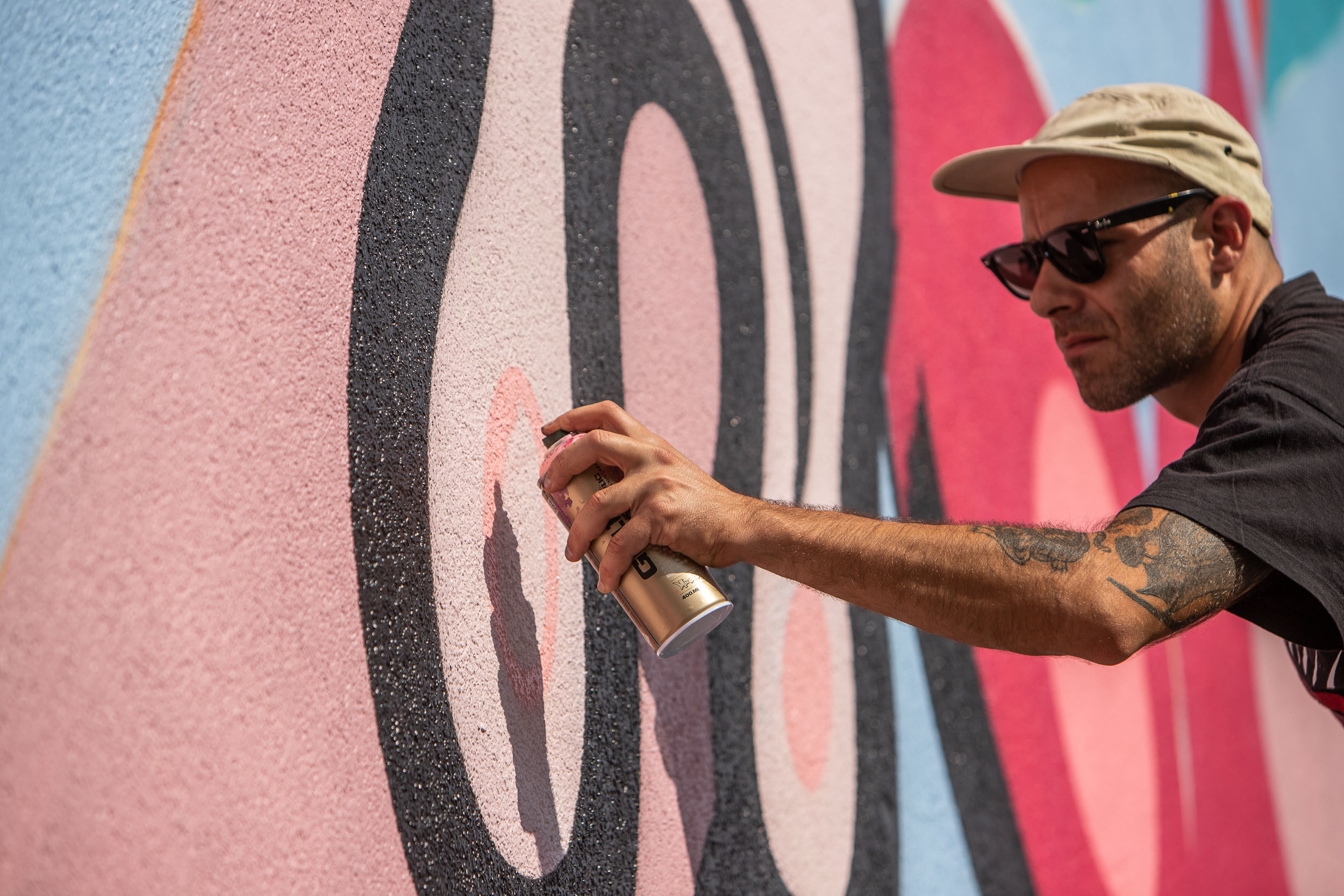 Entstehungsprozeß des Murals
Beim Anblick der stimmigen Blau,- Rot- und Gelbtöne wird uns genauso warm ums Herz wie Nuno Barbedo — wie der 37jährige mit bürgerlichem Namen heißt — in Mannheim. Er ist erst zum zweiten Mal in Deutschland und Mannheim erinnere in an seine Heimatstadt Porto. Mit Worten beschreiben könne er das nicht, das Gefühl stimme einfach. "Feels Like Home" eben. Könnte es ein größeres Lob an unsere Quadratestadt und unser OPEN URBAN ART MUSEUM geben? Und weil deutsches Graffiti seine liebstes ist und er sich während seines Aufenthalts hier mit dem ein oder anderen Graffiti-Writer aus der Region getroffen hat, wird er uns mit Sicherheit noch das ein oder andere farbenfrohe Gemeinschaftswerk hinterlassen. Hoffentlich!
Das Mural "Feels Like Home" des Portugisischen Künstlers THE CAVER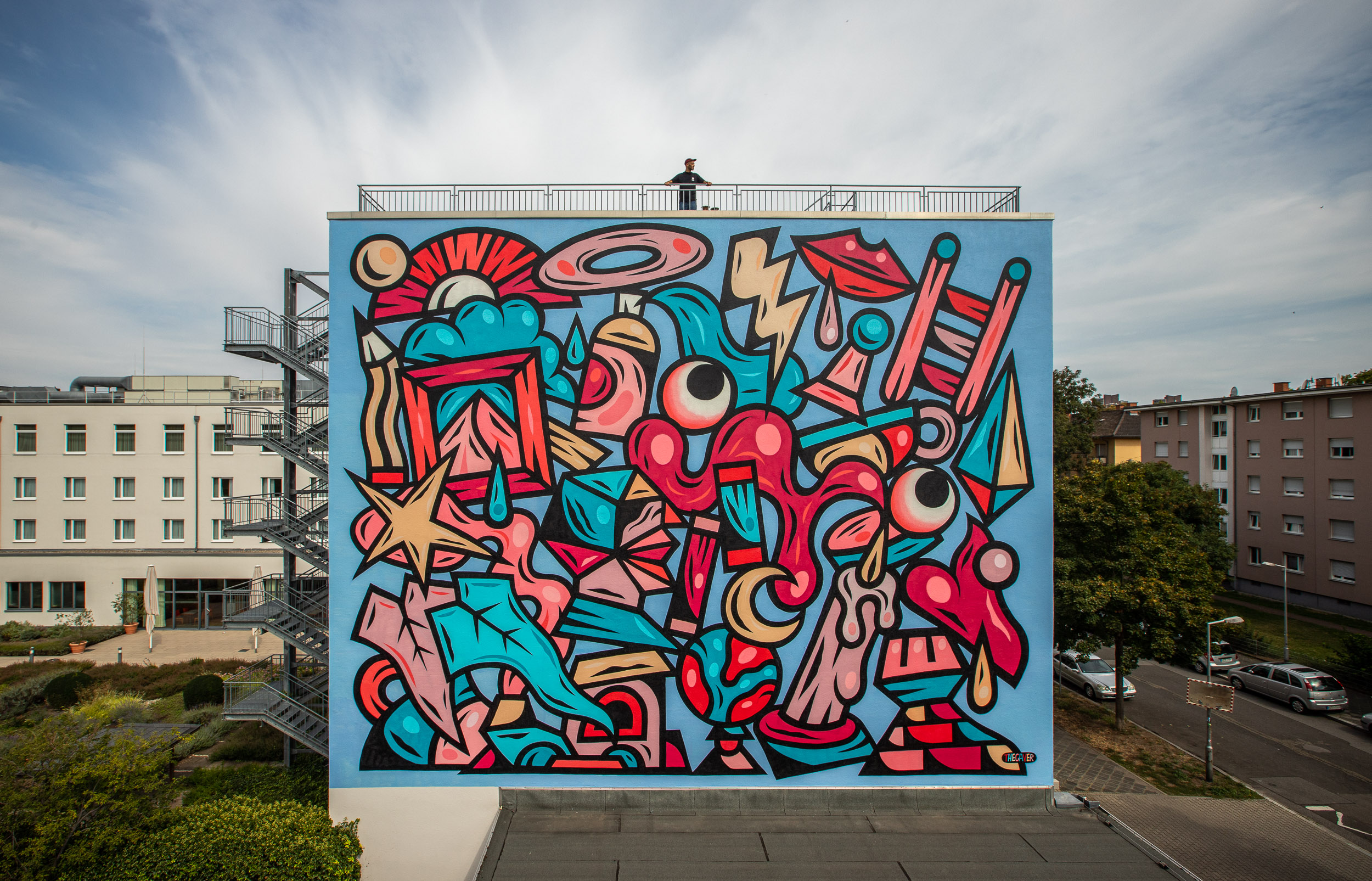 Hier ist das Mural zu besichtigen:
Text: Katharina Tremmel, STADT.WAND.KUNST; Fotos: Alexander Krziwanie / STADT.WAND.KUNST