Video zur Entstehung des LONDON POLICE Murals in Mannheim
Video: THE LONDON POLICE Mural für STADT.WAND.KUNST in Mannheim
Die einzigartige Sammlung großformatiger Wandbilder im Mannheimer Stadtbild nimmt weiter Farbe und Form an. Bei hochsommerlichen Bedingungen hat das Künstlerkollektiv THE LONDON POLICE nun ihren Beitrag zu STADT.WAND.KUNST 2018 beigesteuert und inzwischen liegen uns auch die bewegten Bilder ihrer Tat vor. Das Mural "900 dogs by a chocolate factory" schmückt seither die Turnhallenwand der Johannes-Kepler Schule in K6,2 mit einem fiktiven Stadtbild im typischen Stil von THE LONDON POLICE.
Ihre sehr grafischen Arbeiten, in denen meist die prägnanten LADS Character im Mittelpunkt stehen, machten THE LONDON POLICE weltweit bekannt und zu einer festen Größe der Street Art Szene. Durch ihre Teilnahme bei der diesjährigen Eventreihe von STADT.WAND.KUNST ist Mannheim nun nicht nur um ein geniales Wandbild reicher, sondern auch um ein Stück urbaner Kunsthistorie. Möglich gemacht wurde das 28m lange und 7m hohe Wandbild mit Unterstützung von Montana Cans, Alte Feuerwache Mannheim und der Mannheimer Wohnungsbaugesellschaft GBG. Zur Umsetzung ihres Murals reisten Chaz und Bob, die Gründungsmitglieder von THE LONDON POLICE, persönlich nach Mannheim und wurden bei ihrer Arbeit von ihren Kollektivmitgliedern Chinny und Douglas unterstützt – ein Polizist kommt selten allein.
Das neu entstandene Wandbild ist, wie alle Bilder die im Rahmen von STADT.WAND.KUNST entstehen, frei zugänglich und sollte sich, schon alleine aufgrund der imposanten Größe des Werks, live vor Ort in Mannheim angesehen werden. Einen Eindruck der Arbeiten an "900 dogs by a chocolate factory" von THE LONDON POLICE findet ihr in diesem Video von GALLION Film!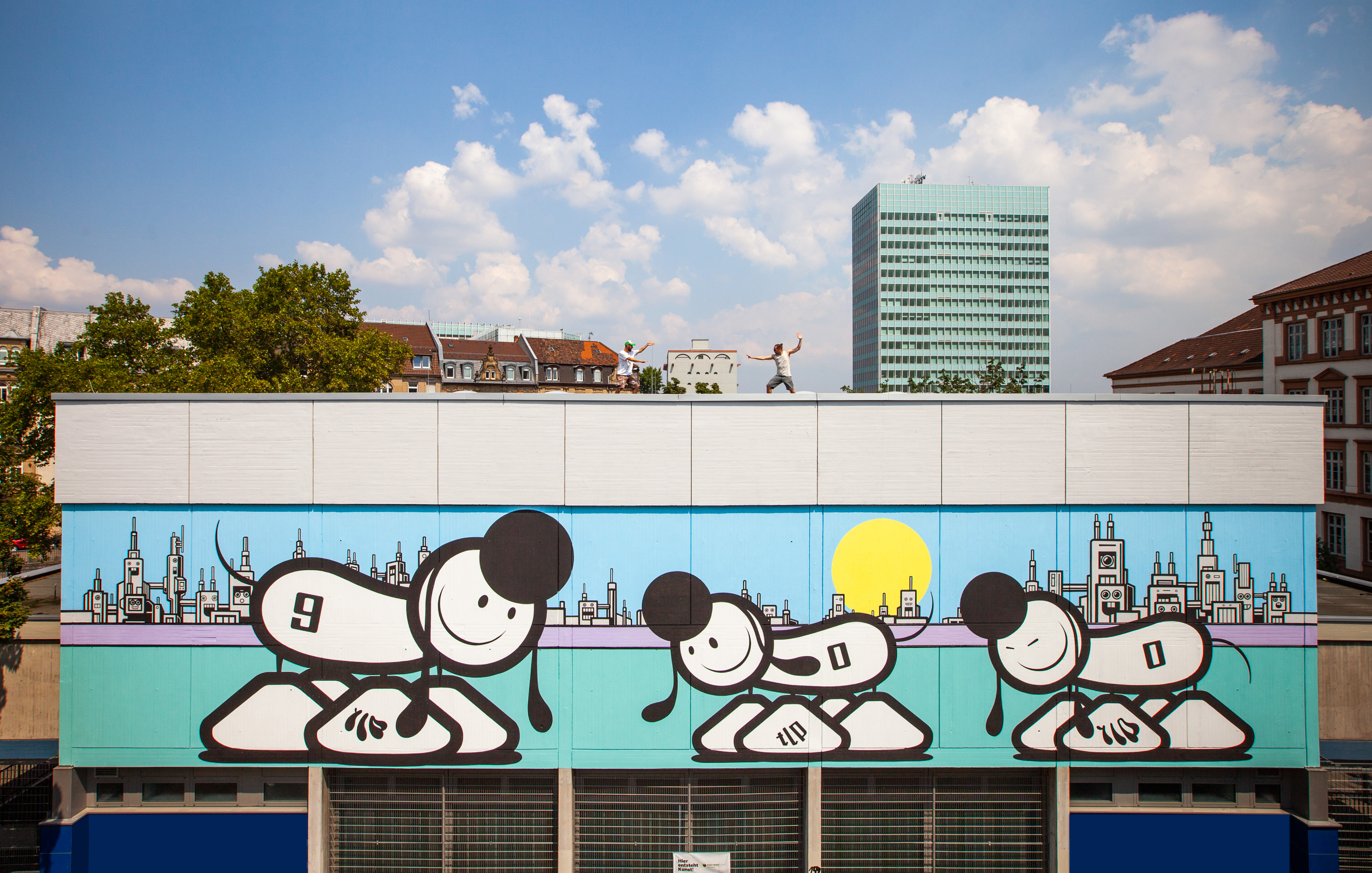 The London Police "900 dogs by a chocolate factory"
Das Bild von THE LONDON POLICE für STADT.WAND.KUNST 2018 kann ab sofort umsonst und auf der Turnhalle der Johannes-Kepler Schule in K6 10 angesehen werden.