Neues Mural von THE LONDON POLICE in Mannheim
Die Street-Art Ikonen aus Amsterdam gestalten ein Großformat
Whoop, whoop … Mannheim hat ein neues Mural und THE LONDON POLICE haben STADT.WAND.KUNST wörtlich genommen. Das fertige Wandbild zeigt eine Stadtkulisse im unverwechselbaren, comicartigen Stil des Künstlerkollektives aus Amsterdam. Ein großes, großartiges Werk, das die Oldschooler der Street-Art Szene bei ihrer Rückkehr auf den Schulhof abgeliefert haben – nicht nur aufgrund der Quadratmeterfläche des Bildes!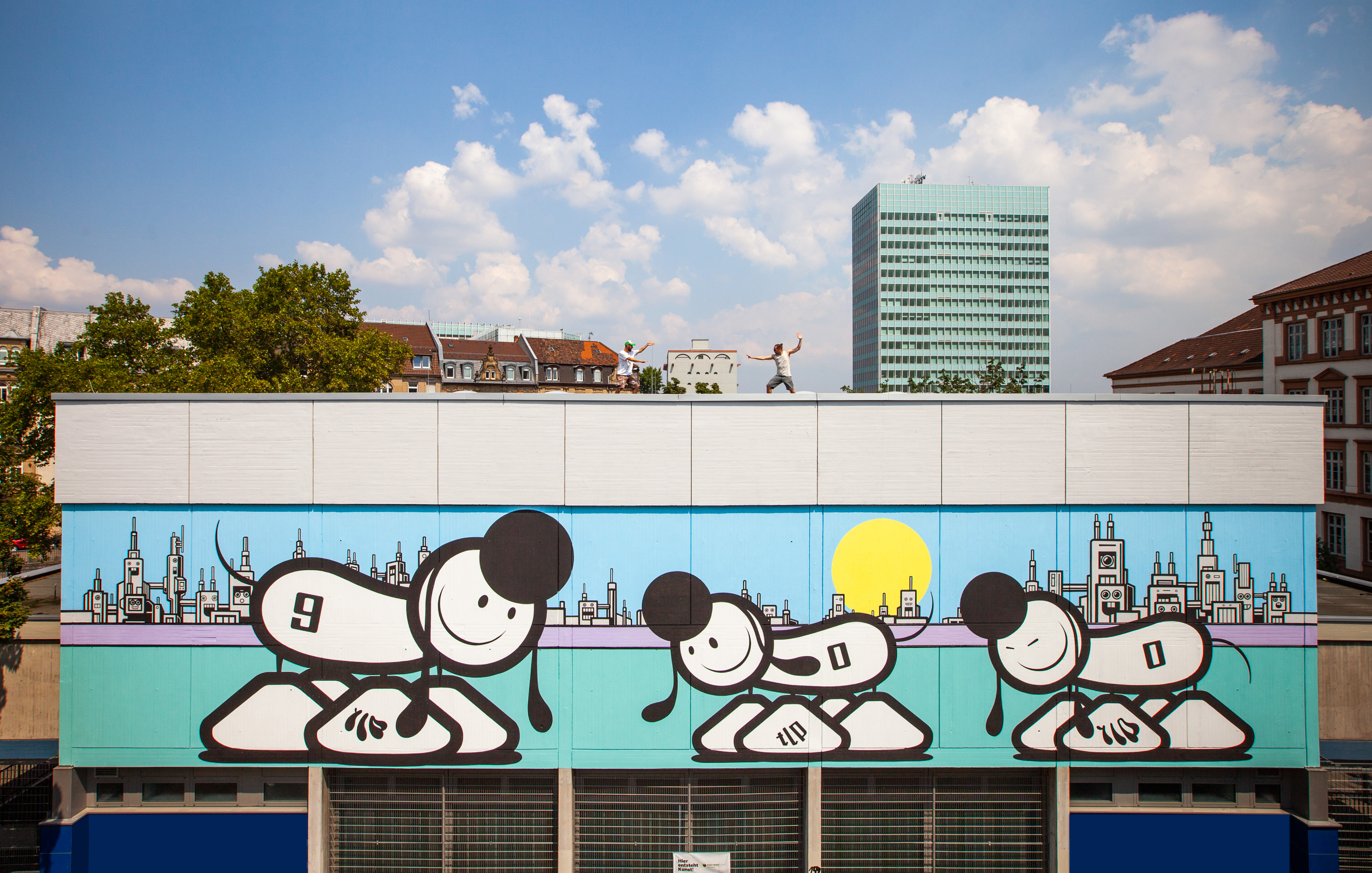 The London Police "900 dogs by a chocolate factory"

Nachdem in den vergangenen Wochen schon 1010 und WAONE großformatige Meisterwerke im Rahmen der diesjährigen STADT.WAND.KUNST Events beisteuerten, war in den letzten Tagen THE LONDON POLICE an der Reihe, das Mannheimer Stadtbild um ein großes Stück urbaner Malerei zu ergänzen. Ihre sehr grafische Arbeit schmückt nun die Turnhalle der Johannes-Kepler Schule in der Mannheimer Innenstadt. Sie zeigt im Hintergrund eine urbane Skyline aus figurativen Gebäuden, die mit ihren vielen Details zum Entdecken einlädt. Im vordergründigen Zentrum des Bildes stehen drei LADS Character im klassischen Stil von THE LONDON POLICE, die dem Betrachter/der Betrachterin vor strahlender Sonne zulächeln. Mural THE LONDON POLICE Mannheim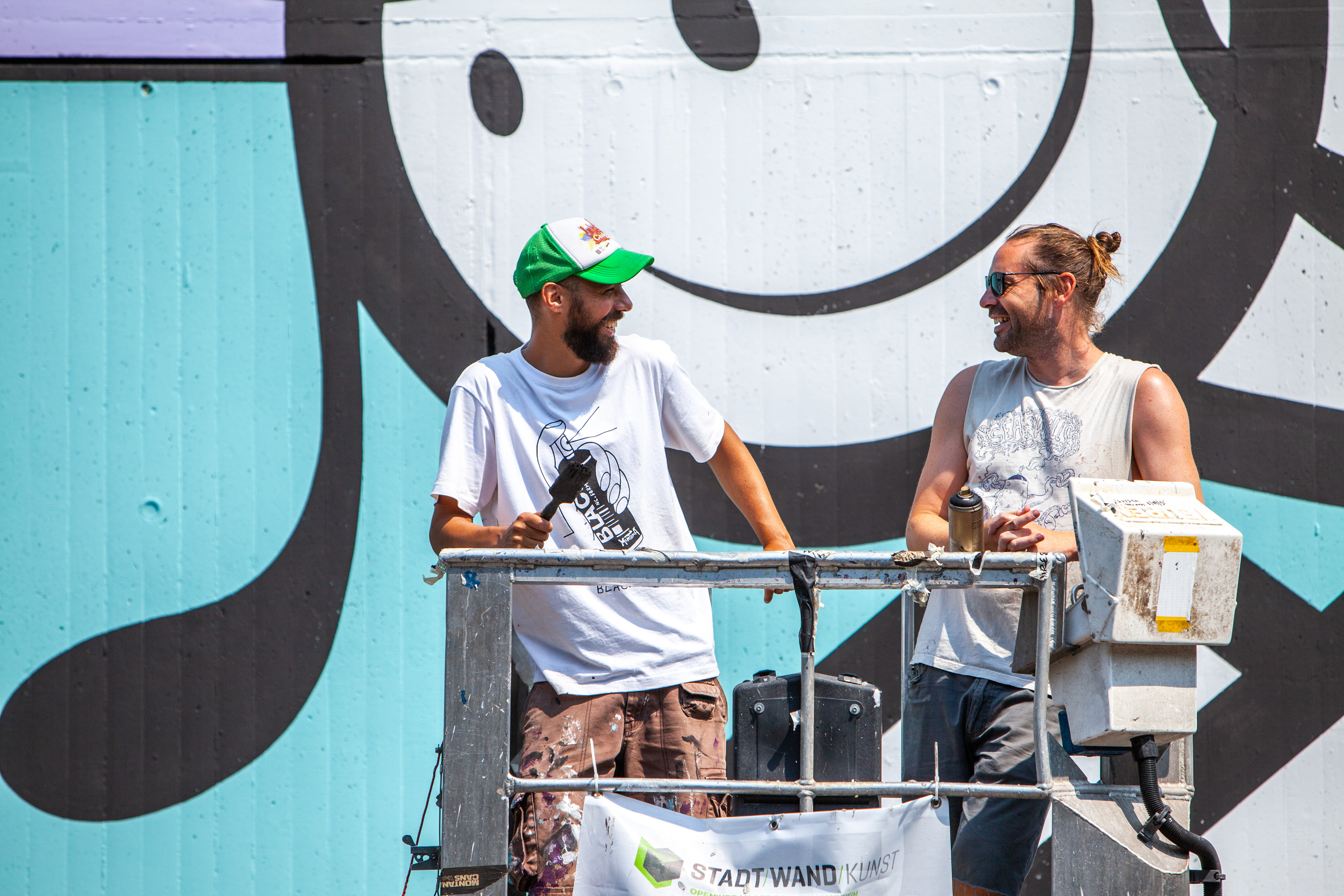 Die ersten Arbeiten von THE LONDON POLICE tauchen im Jahre 1998 im Amsterdamer Stadtbild auf und seither findet man ihre Wandbilder, Zeichnungen und Aufkleber in inzwischen über 35 Ländern – nun endlich auch in Mannheim. Für ihr aktuelles Mural reisten die beiden Gründungsmitglieder Chaz und Bob mit Unterstützung ihrer Crewmitglieder Chinny und Douglas an den Neckar, um über einen Zeitraum von einer Woche ihr Bild für STADT.WAND.KUNST fertigzustellen. Die Arbeit entstand unter voller Sonne, wie sie auch ihr Wandbild abbildet. Mit ihrem Werk steuerten die vier nicht nur ein weiteres Highlight urbaner Kunst zu Mannheims Open-Air Galerie hinzu, sondern mit ihrer Teilnahme auch ein prägendes Stück Geschichte der Street-Art.
Fotostrecke zum Entstehungsprozeß
Das Bild von THE LONDON POLICE für STADT.WAND.KUNST 2018 kann ab sofort umsonst und auf der Turnhalle der Johannes-Kepler Schule in K6 10 angesehen werden.
Chaz und Chinny vor der fertigen Fassade in K6 – die Wand ist 28m lang und 7m hoch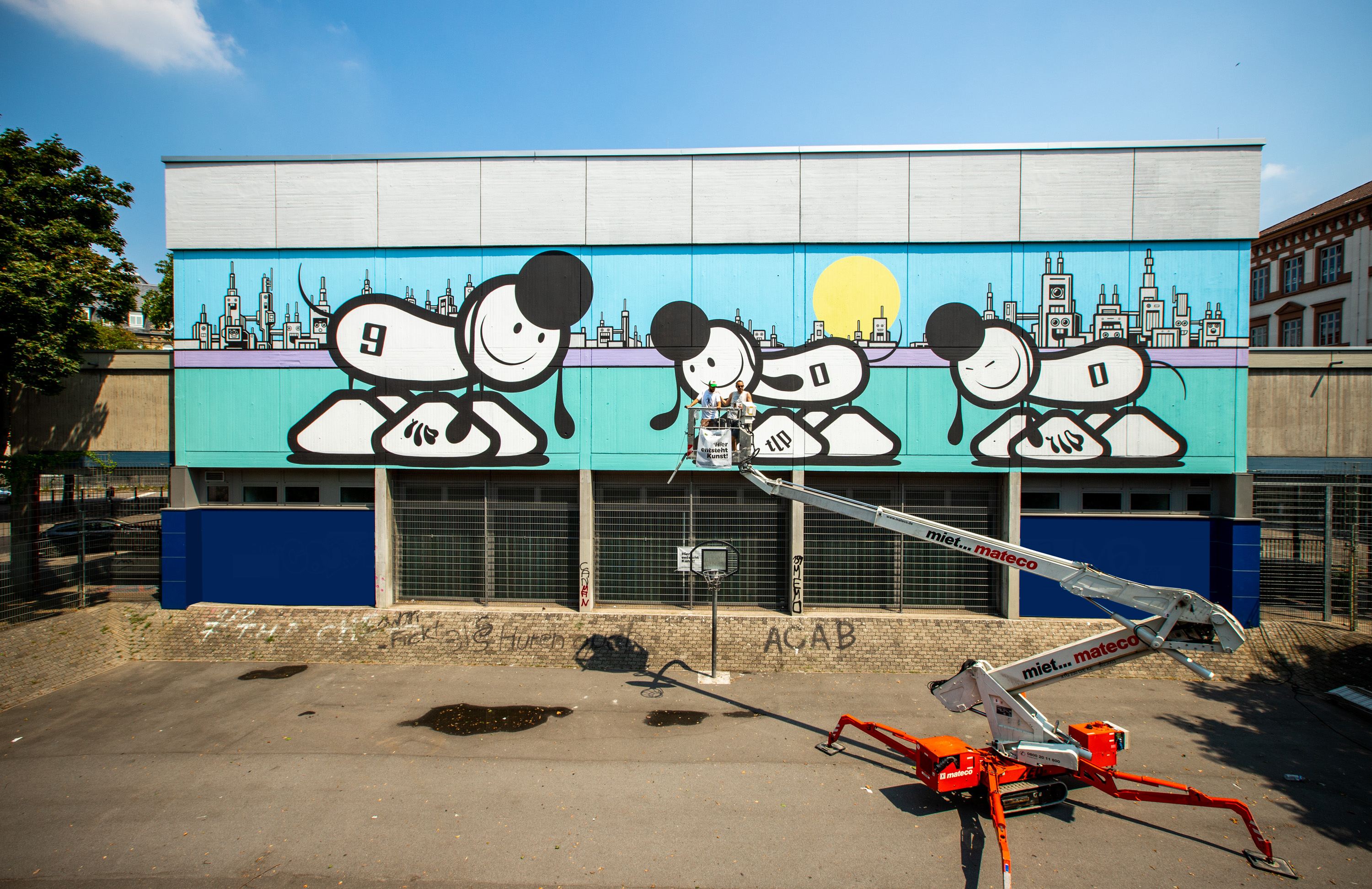 Fotos : © Alexander Krziwanie / Stadt.Wand.Kunst