Mural des Finnischen Künstlers EGS für STADT.WAND.KUNST
EGS zu Gast bei STADT.WAND.KUNST in Mannheim
Mit einem Mural des finnischen Old School Graffiti Artist EGS verabschiedet sich STADT.WAND.KUNST in die Winterpause. Im vergangenen Sommer kamen wieder zahlreiche Künstler nach Mannheim, um im Rahmen dieser einzigartigen Freiluftgalerie für Urbane Kunst ihre Murals im Stadtbild zu hinterlassen. Nachdem in den vorherigen Jahren schon internationale Größen wie HENDRIK BEIKIRCH und die LOWBROS ihre großformatigen Wandbilder umsetzten, waren es in diesem Jahr 1010, WAONE, THE LONDON POLICE, SOURATI und FRAU ISA, die sich in Mannheim verewigten. Das Ergebnis ist eine bunte XXL Mischung aus Graffiti und Street Art aus den verschiedensten Teilen unserer Welt – fast schon als wäre dieser länderübergreifende Austausch schon immer selbstverständlich.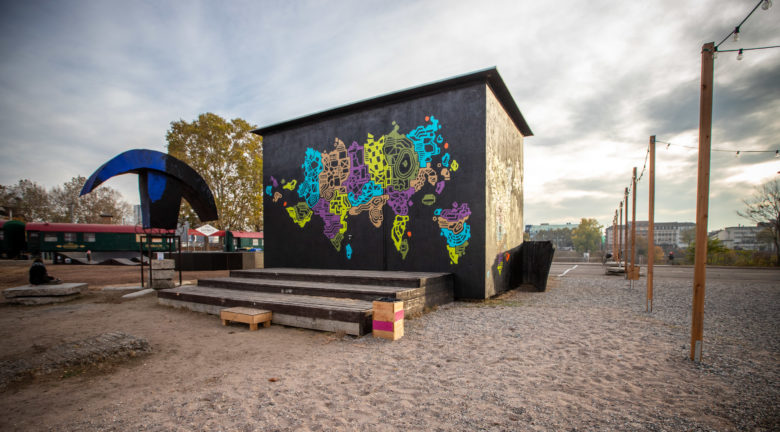 Er ist der weltweit angesehenste finnische Graffiti-Künstler und belieferte jüngst Briefmarken der Finnischen Post mit seinen Graffiti-Motiven, will aber immernoch anonym bleiben. Im Januar 2018 bekam EGS aus Helsinki mit "Writing Diary" als erster finnischer Graffiti-Künstler eine eigene Ausstellung in der Taidehalli, der Kunsthalle Helsinki. Nun hat EGS im Auftrag von Stadt.Wand.Kunst das Mannheimer Einraumhaus am Alten Messplatz mit seinem neusten Werk "Old New World Order", seiner ganz eigenen Weltkarte, versehen. Geographie und Weltkarten sind seit einigen Jahren das Lieblingsthema des Künstlers, der sich seit Beginn seiner Laufbahn vor 25 Jahren an 2000 verschiedenen Stellen in vielen großen Städten in 40 Ländern weltweit verewigt hat. Die Weltkarten von EGS sind absichtlich nicht korrekt dargestellt und werden aus den Erinnerungen an seine unzähligen Reisen gespeist. Dabei üben vor allem Grenzlinien eine große Faszination auf den Kosmopoliten aus, der aufgrund seiner großen Leidenschaft und seines internationalen Rufs viel durch die Welt reist. "Lines define the way we see the world" — Grenzen legen uns in unserem Denken über die Welt fest. Das Ziehen von Grenzen könne Konflikte lösen oder sie überhaupt erst auslösen.
Auch die Perspektive aufs Werk kann so individuell sein wie persönliche Einstellungen, erklärt EGS. Karten sprechen für sich, jeder kann sie unabhängig von seiner Nationalität lesen. Die Botschaft von "Old New World Order" ist ganz klar eine politische: Sich von der eigenen festgefahrenen Perspektive lösen, gedankliche Grenzen hinterfragen. "Basically the world is shifting" — Die Welt ist im Wandel, ständig. Auch Wirtschaftsbeziehungen, Machtverhältnisse, Globalisierungstrends – welche man übrigens alle in der stark abstrahierten Karte erkennen lassen – seien davon betroffen, so EGS. Auch die Farbauswahl hat eine Bedeutung: Diese sei "Germany associated" und auf Farben begründet, die er mit früheren Besuchen und mutmaßlich illegalen Aktionen in Deutschland verbindet. Die orange-markierten Flächen stünden für konfliktlastige Gegenden wie z.B. die Falklandinseln oder Korsika. Mit seinem Arbeitsplatz am Alten Messplatz war und ist EGS mehr als zufrieden. Der Kontrast zwischen moderner Architektur und historischen Gebäuden war genau nach seinem Geschmack. Mannheim sei eine weltoffene Stadt, offen für Veränderungen, in der Fremde willkommen seien: "For me it was the most beautiful place to paint!"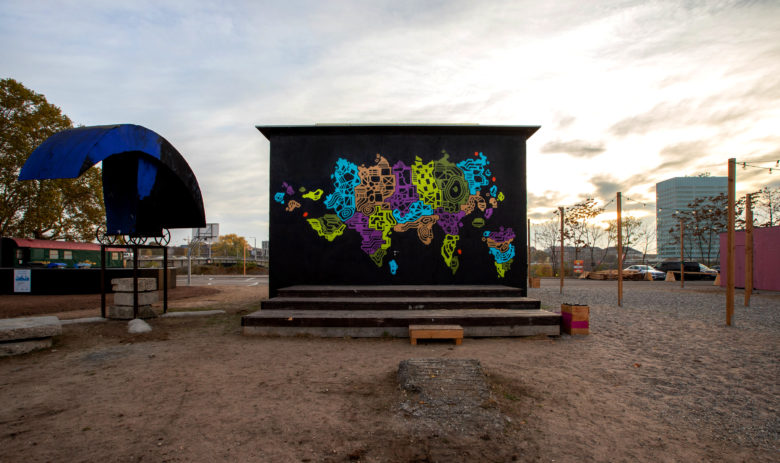 Das Mural von EGS befindet sich am Einraumhaus am Alten Messplatz. Wer einen Blick auf unsere Welt werfen möchte, wie sie sich gerade entwickelt, sollte sich das Mural in voller Größe direkt vor Ort, umsonst und frei zugänglich, in Mannheim ansehen. Das Mural entstand in Zusammenarbeit mit dem Finnland-Institut in Deutschland und ist Teil des Festivals Kultur Aus Finnland.
Stadt.Wand.Kunst 2018 EGS Einraumhaus Alter Messplatz, 68167 Mannheim
Das Video zur Entstehung
"Old New World Order" in Mannheim von EGS für Stadt.Wand.Kunst 2018 from Stadt Wand Kunst on Vimeo.